Earth-moving trailers
TUHTI earth-moving trailers are designed for challenging applications.
High-quality materials, meticulous manufacturing techniques and modifications made on the basis of customer feedback ensure that our earth-moving trailers will last for years.
KCapacity 11,000 kg–18,000 kg
Tubular beam frame with high torsional strength
High-quality FAD hubs
Backboard with hydraulic control (WS 150 D3 drop gate)
High backboard opening height (WS 150 D3 no limitations)
Front wall higher than the sides
6 mm bottom plate made of abrasion-resistant steel
4 mm side walls made of abrasion-resistant steel
WS 180 D3 with a drawbar with springs
2-wheel brakes a standard option
Grain walls as an accessory
FRAME AND TRAILER BED
All earth-moving trailers have a multi-axle chassis
The frame and trailer beds are dip-painted allowing paint to penetrate the frame bars
The trailers have a tubular beam frame with high torsional strength, the frame beams are also made of tubular beam
The long drawbar (approx. 1.5 m) makes the trailer easy to manoeuvre even with twin tyres
The WS180D3 trailer has a drawbar with springs (mechanical leaf spring)
WALLS PANELS AND BOTTOM
The front wall is 150 mm higher than the side walls
Bottom plate made of 6 mm abrasion-resistant steel, 8 mm abrasion-resistant steel in N110D3 and N130D3 models
In the WS120D2 and WS180D3 trailers, the inner corners are angled by 150 mm
The N110D3, N130D3 and WS150D3 trailers have sharp inner corners
The long sides of the bed are equipped with box girders to support the bottom corners
The side walls have no vertical support structures, which allows them to yield under pressure, preventing permanent deformation.
The top edge has a solid bar that ensures the edge retains its shape
The bottom has the minimum of traverse support structures, allowing it to yield under pressure, preventing permanent deformation.
MULTI-AXLE CHASSIS
PHigh-quality wheel hubs manufactured by FAD/li>
Symmetrical bogie with lowered pivot points.
The bogie's middle axle is lower than the hub axles and the trailer climbs over obstacles easily whether moving forward or backward.
In all our dumpster trailers, the rocker mechanism is equipped with round roller bearings
BACKBOARD
Backboard made of 4 mm abrasion-resistant steel
The WS120D2 and WS180D3 trailers are equipped with a backboard that opens upwards with a hydraulic cylinder, also when the grain cassette is mounted
In the WS120D2 and WS180D3 models, the backboard automatically locks behind fixtures in the corner column when closed, preventing the weight of the load from opening it
To ensure safety, in the WS120D2 trailer the backboard is equipped with a hose break valve and with a double-lock valve in the WS180D3 trailer
The N110D3, N130D3 and WS150D3 trailers are equipped with a drop-down gate that is operated with a hydraulic system
The drop-down gate's operating cylinder is equipped with a double-lock valve to ensure that the gate remains secure
In the model with a drop-down gate, the weight of the load opens the gravel backboard when the drop-down gate is opened, and closing the drop-down gate also causes the gravel panel to close
Trailers with a drop-down gate do not have any overhead structures that would hinder unloading (unless a separate gravel panel is used), and the drop-down gate can be turned down to extend the bed length by 40 cm, enabling longer items to be transported.
The backboard has no bars inside that would make loading or unloading more difficult
Backboard stopper chains as a standard feature (gravel panel stopper chains in models with a drop-down gate)
BACKBOARD OPENING MECHANISM
In the WS120D2 and WS180D3 models, the grain cassette's backboard opens with a hydraulic cylinder when the trailer's own backboard is opened
In the N110D3, N130D3 and WS150D3 models with a drop-down gate, the grain cassette's backboard is opened by the weight of the load and closed when the drop-down gate is closed
The grain cassette can be mounted and detached ready-assembled
GRAIN CASSETTE
Grain cassette thickness 3 mm, wall height 750 mm
In the WS120D2 and WS180D3 trailers, the grain cassette is fixed with 8 M12 hex head screws (side and front walls) and 2 fastening pins (backboard)
In the N110D3 and N130D3 trailers, the grain cassette is fixed with 8 M12 hex head screws (side and front walls) and 2 pivots (top of the side walls)
In the WS150D3 trailer, the cassette is secured with clamps on the side
OTHER INFORMATION
Light covers as standard equipment
Rotating hitch
Sprung hydraulic hose holder with a drawbar
A tubular ladder outside the trailer and non-fixed steps inside the trailer make it safe to enter
N110 D3

• Multi-axle chassis
• Straight frame with a frame bar made of tubular beam
• Trailer bed runners made of tubular beam
• Capacity 11,000 kg
• Trailer bed interior dimensions 401×240 cm
• Trailer bed exterior dimensions 424×250 cm
• Wall height 65 cm
• Volume with standard walls 6.2 m³
• Volume with walls for grain 13.4 m³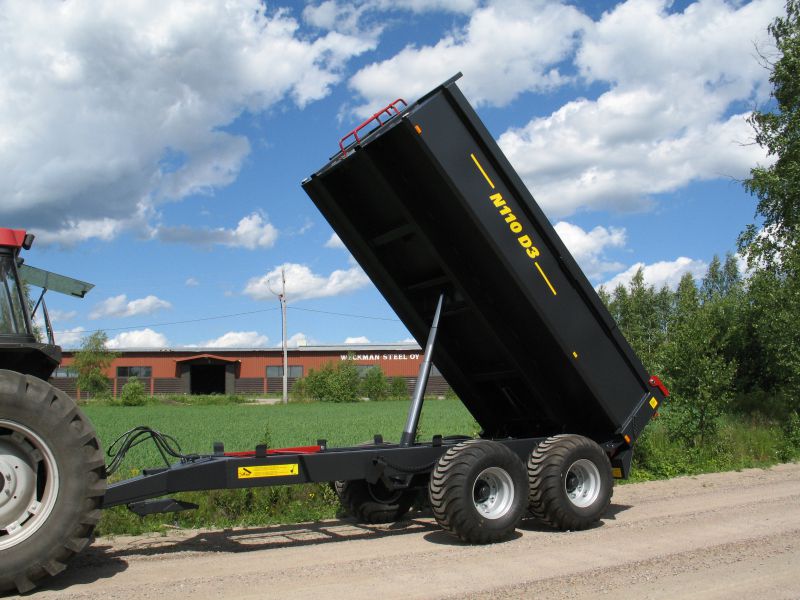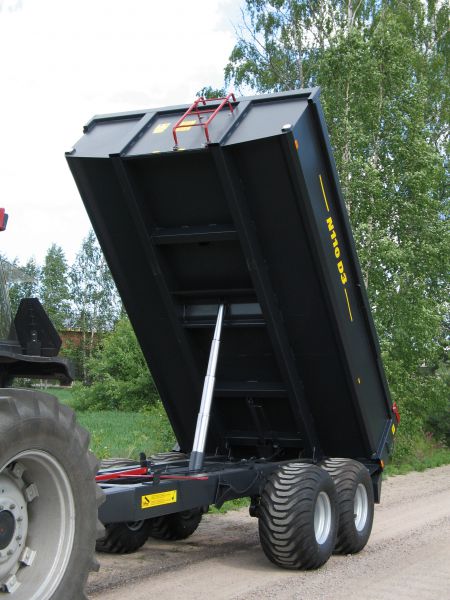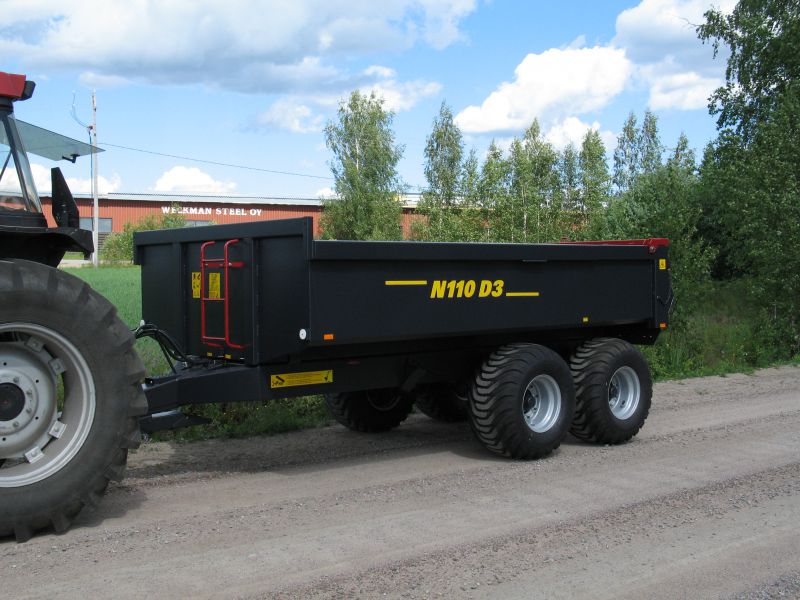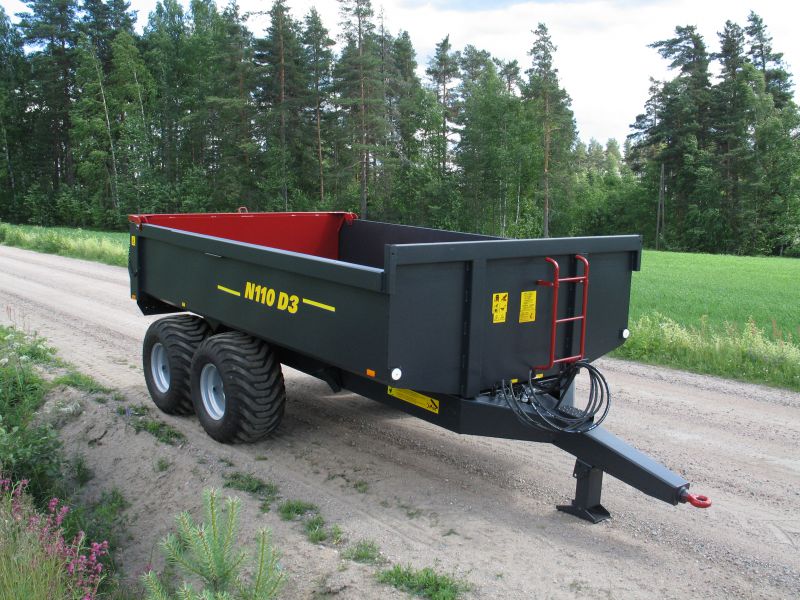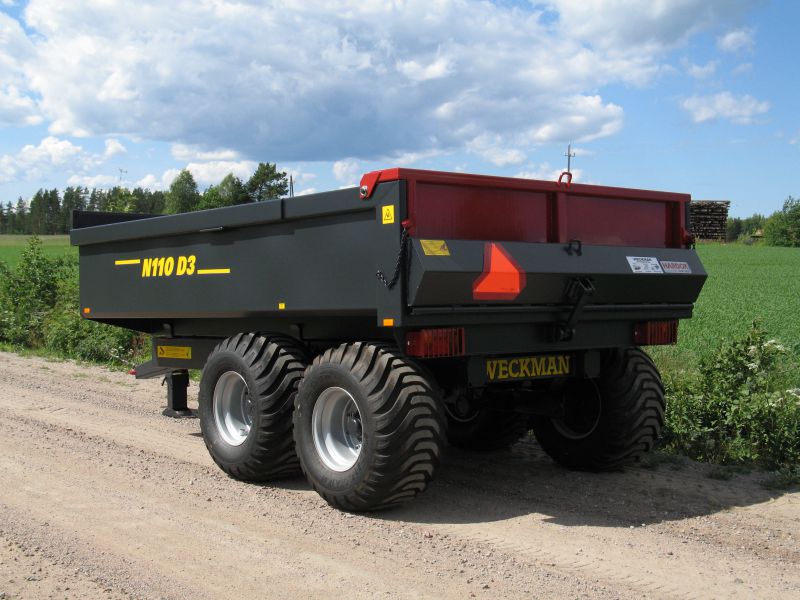 WS120 D2

• Multi-axle chassis
• Rectangular frame with a frame bar made of tubular beam
• Trailer bed runners made of tubular beam
• Capacity 12,000 kg
• Trailer bed interior dimensions 445×230 cm
• Trailer bed exterior dimensions 459×245 cm
• Wall height 65 cm
• Volume with standard walls 6.5 m³
• Volume with walls for grain 14.2 m³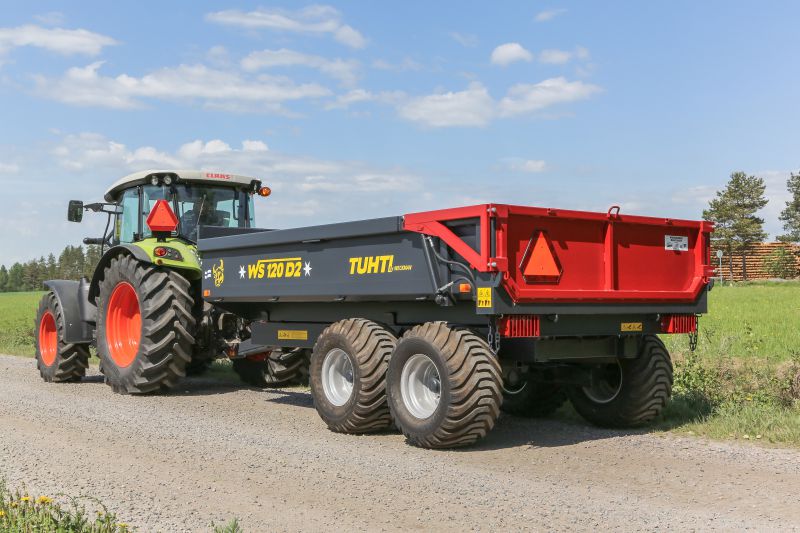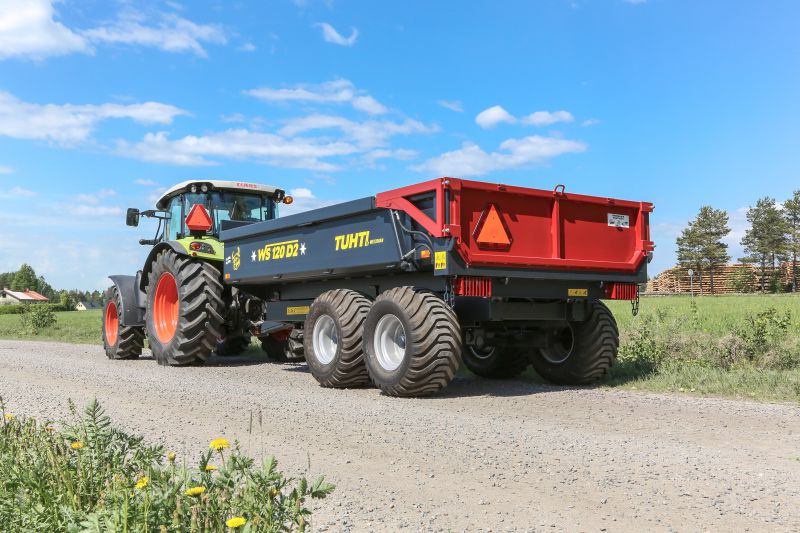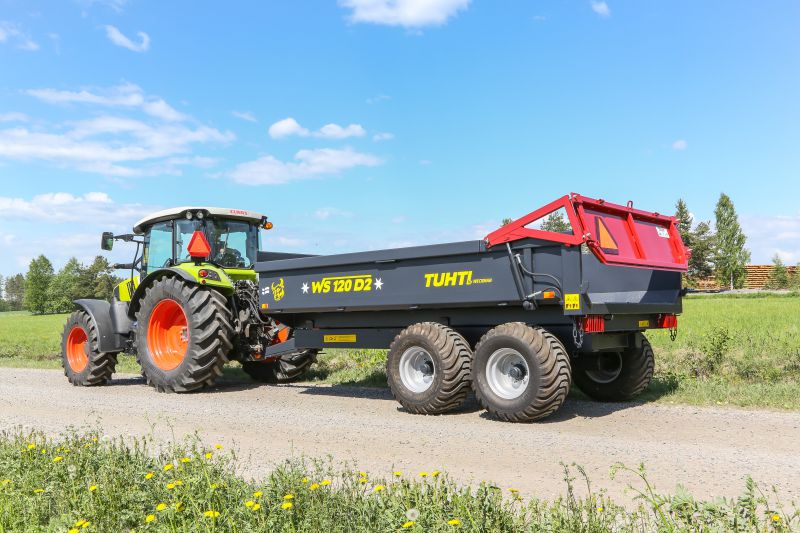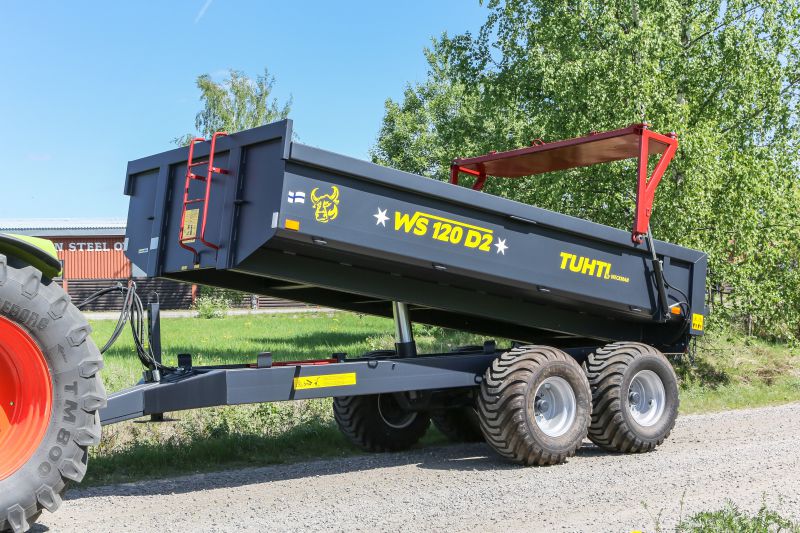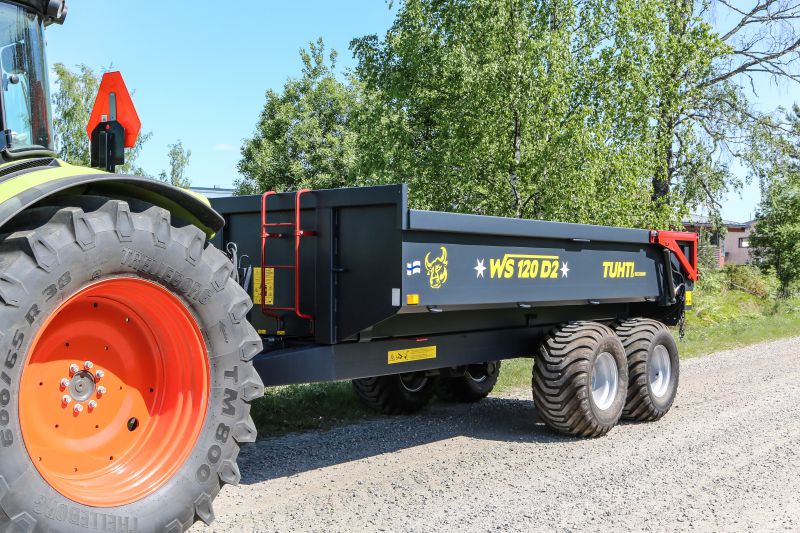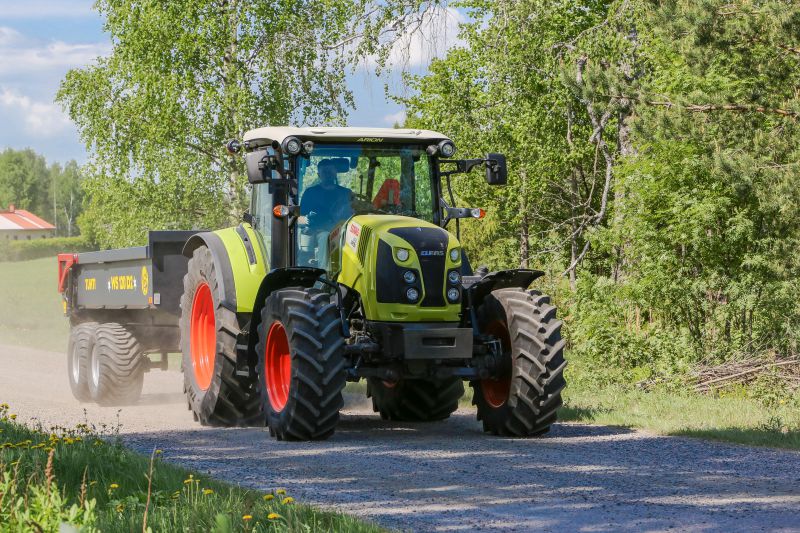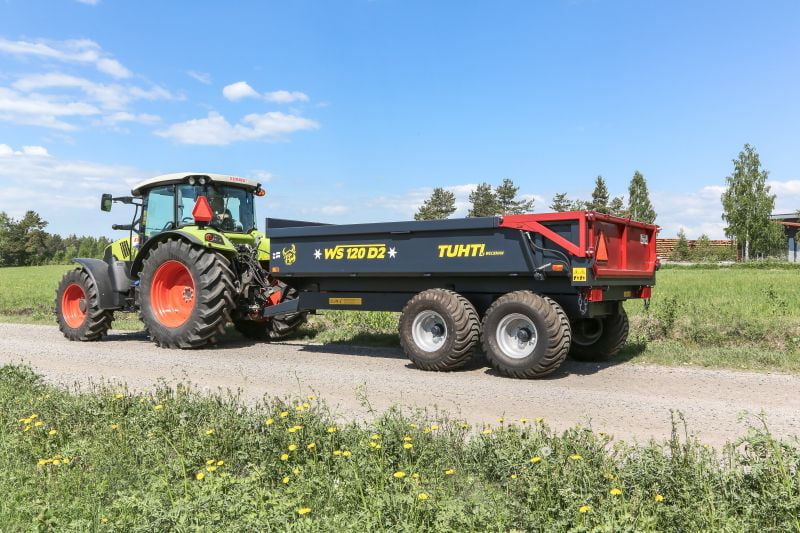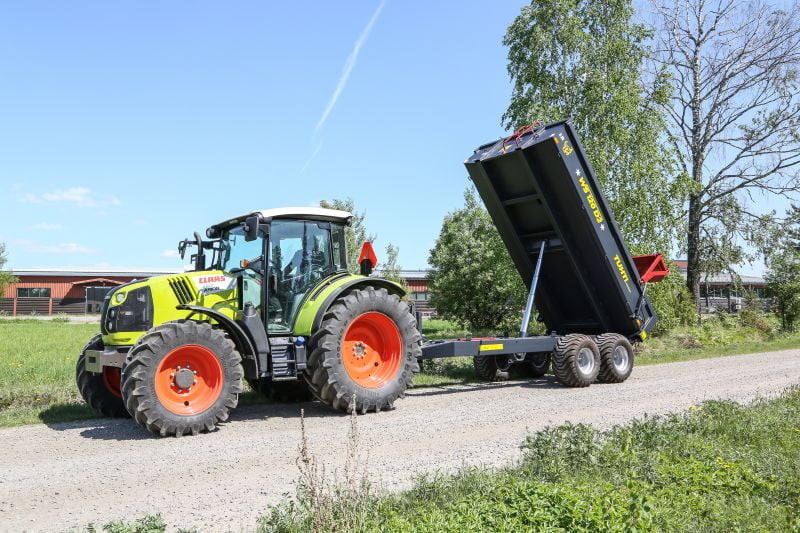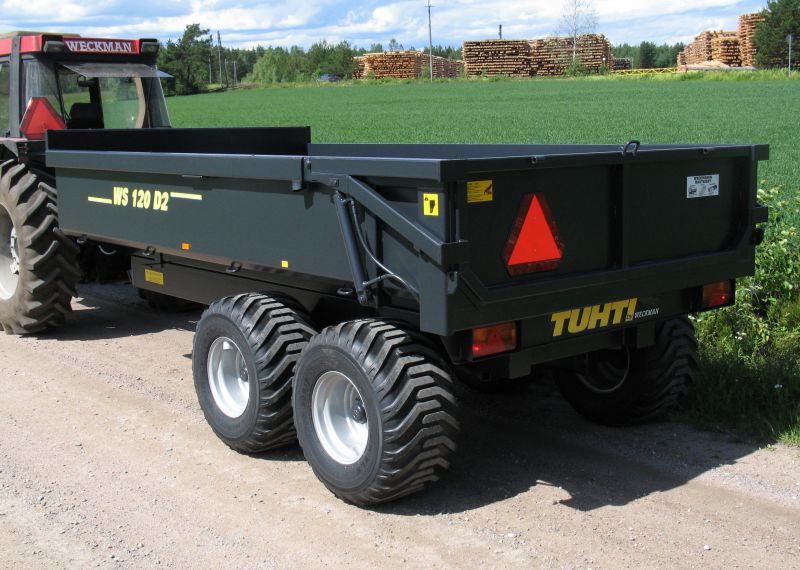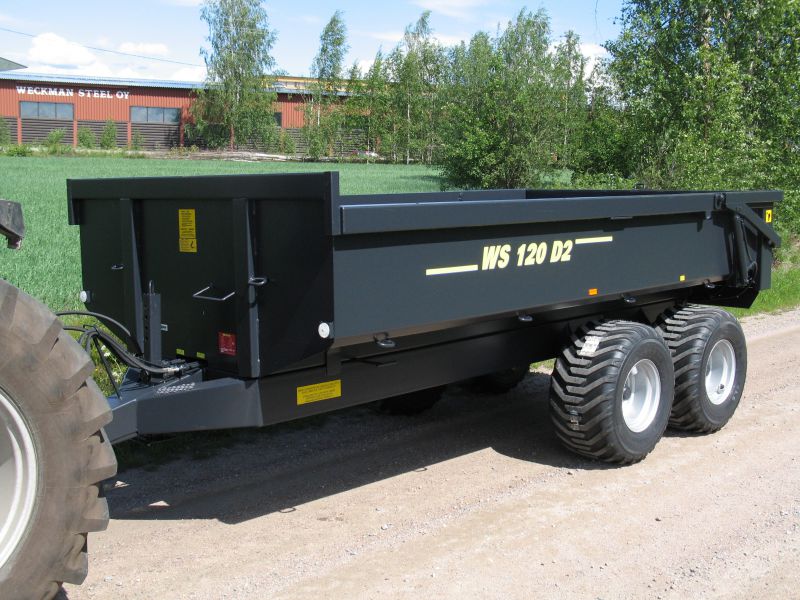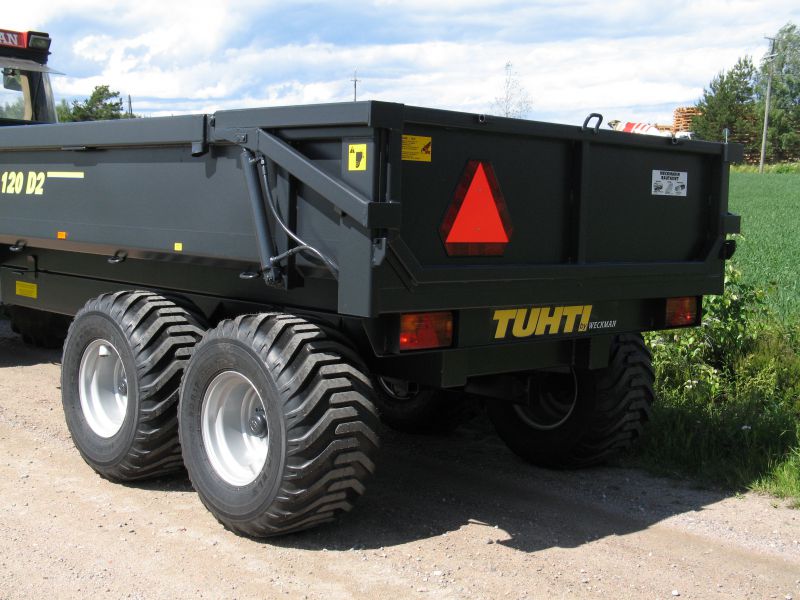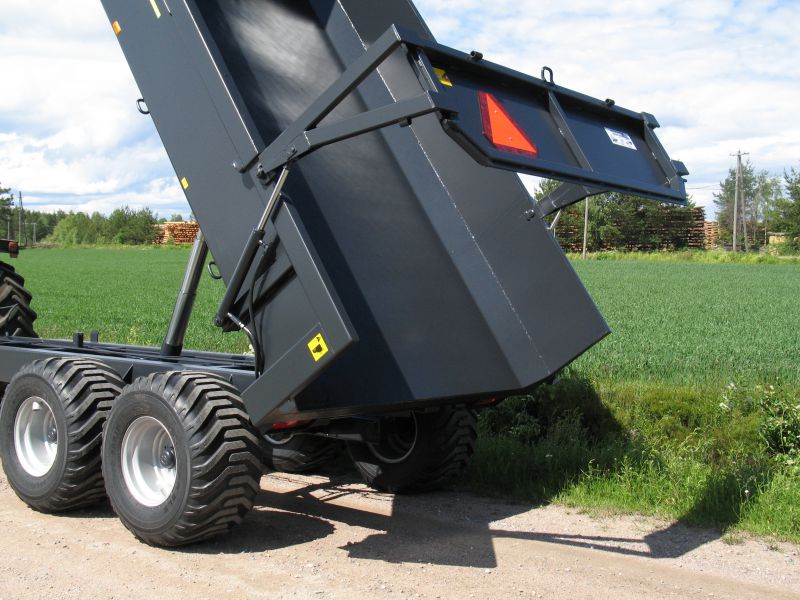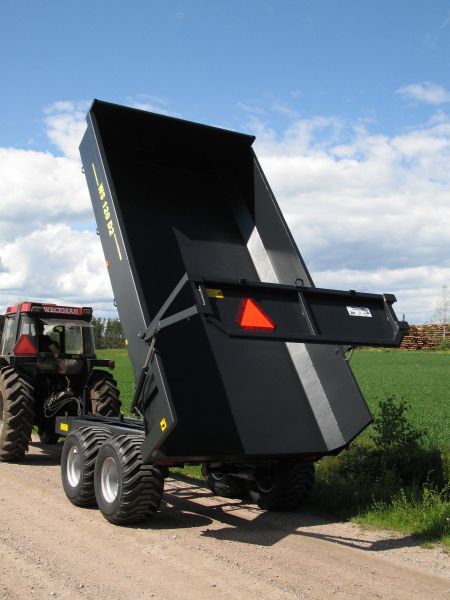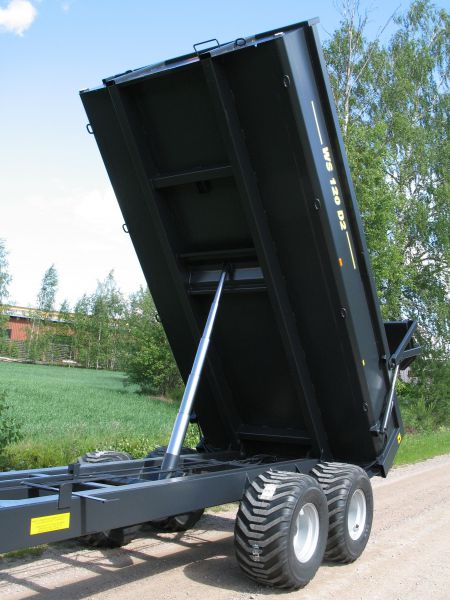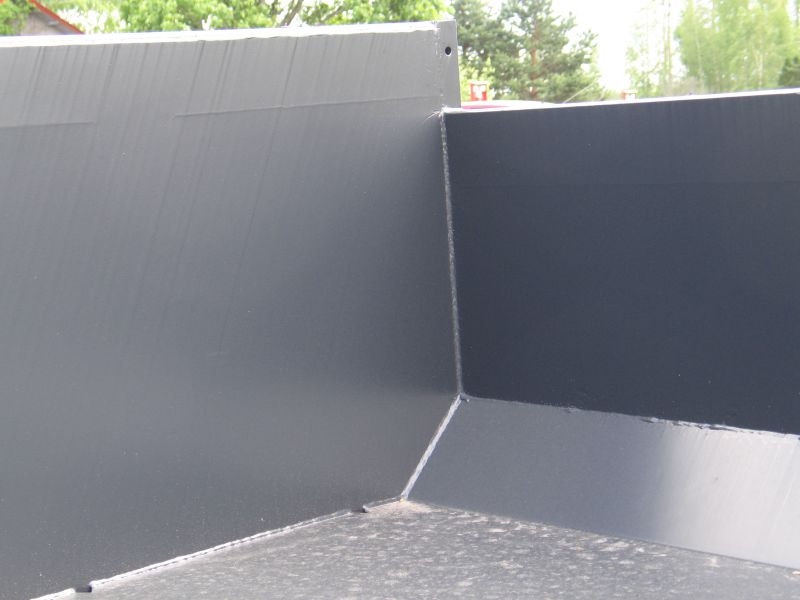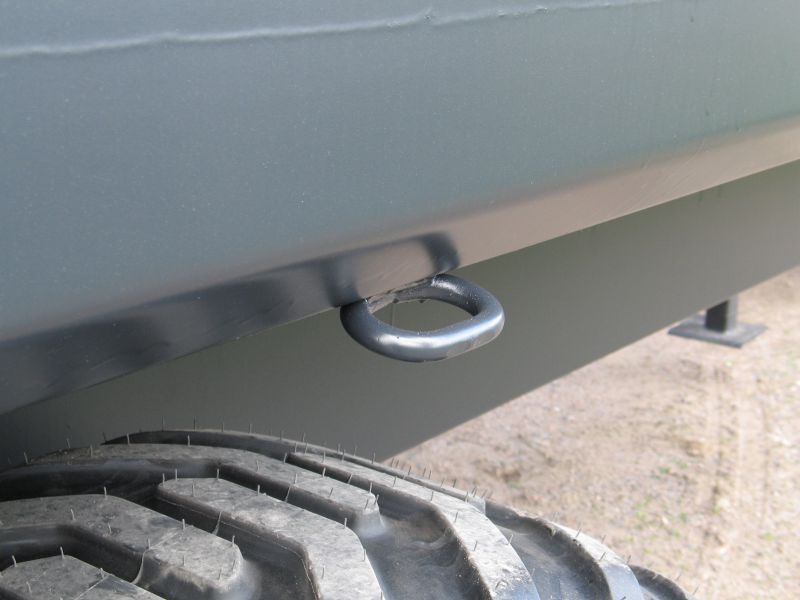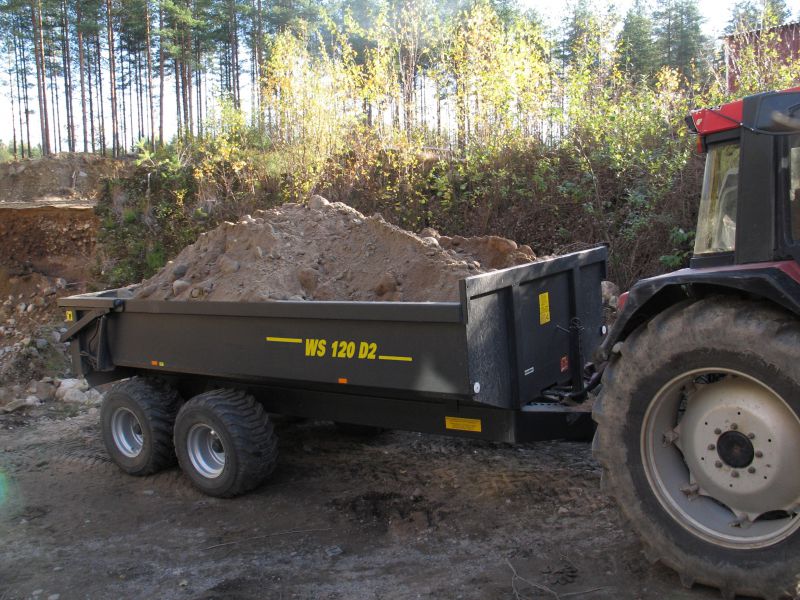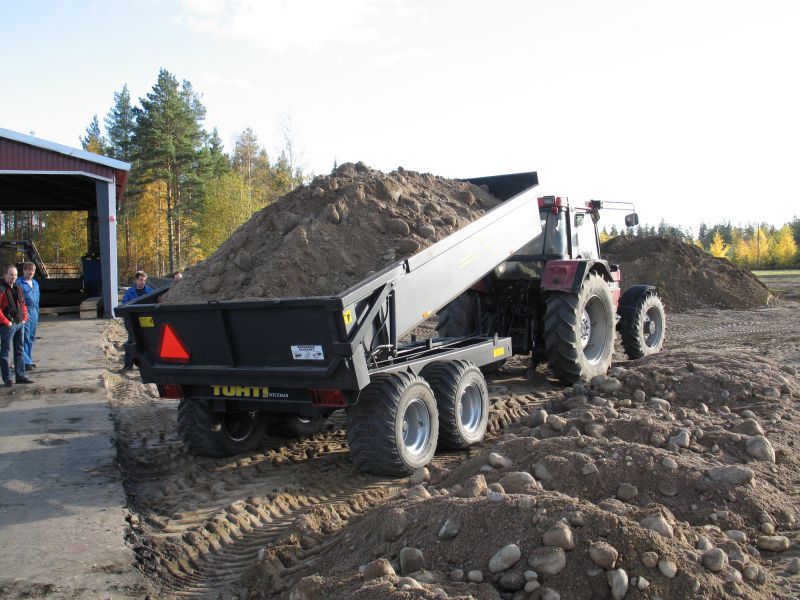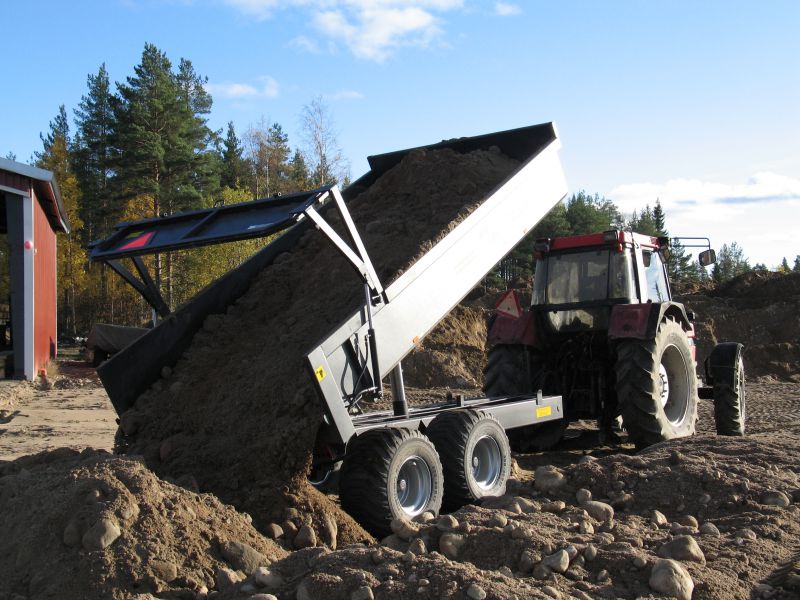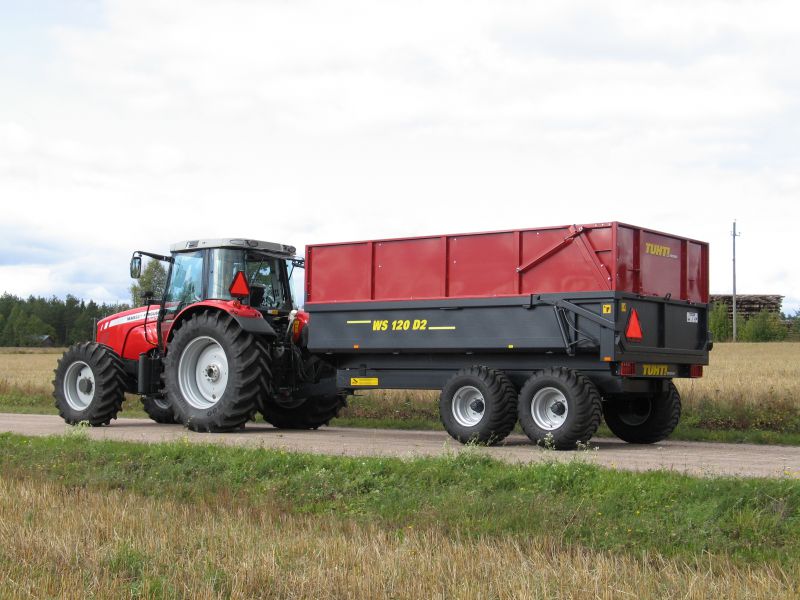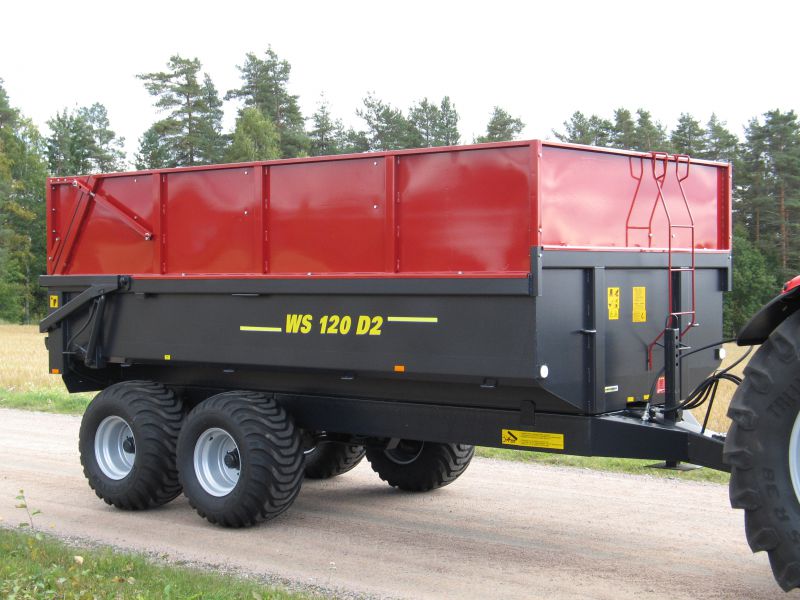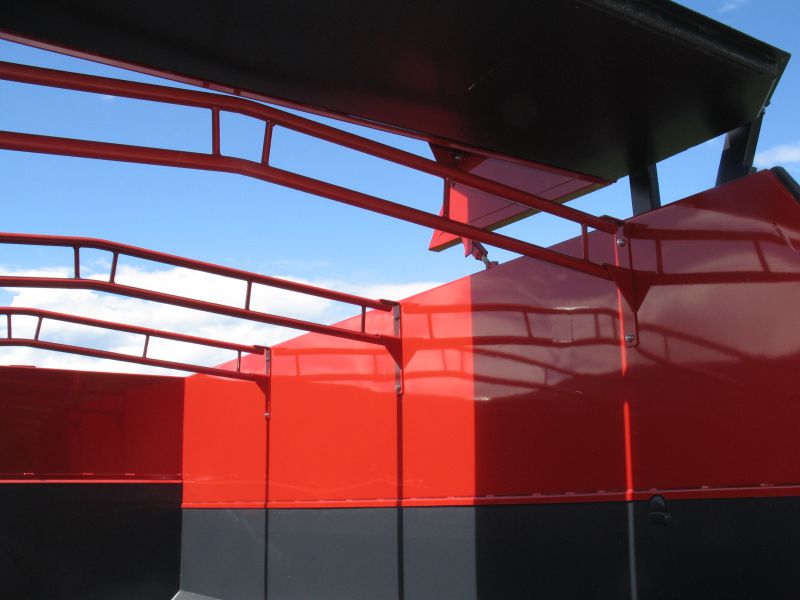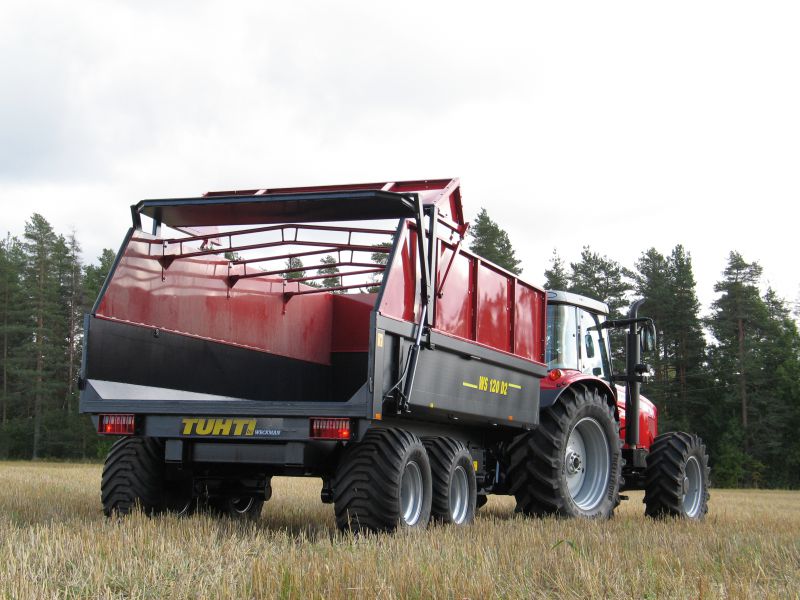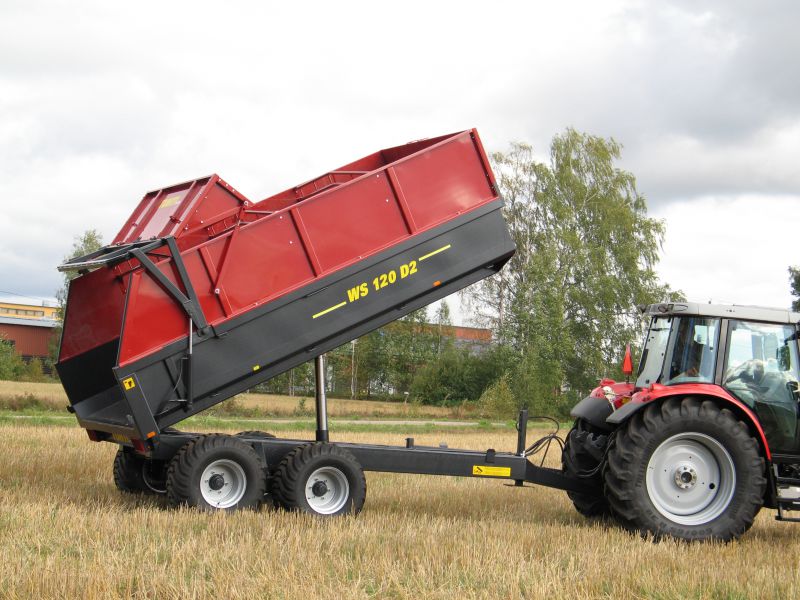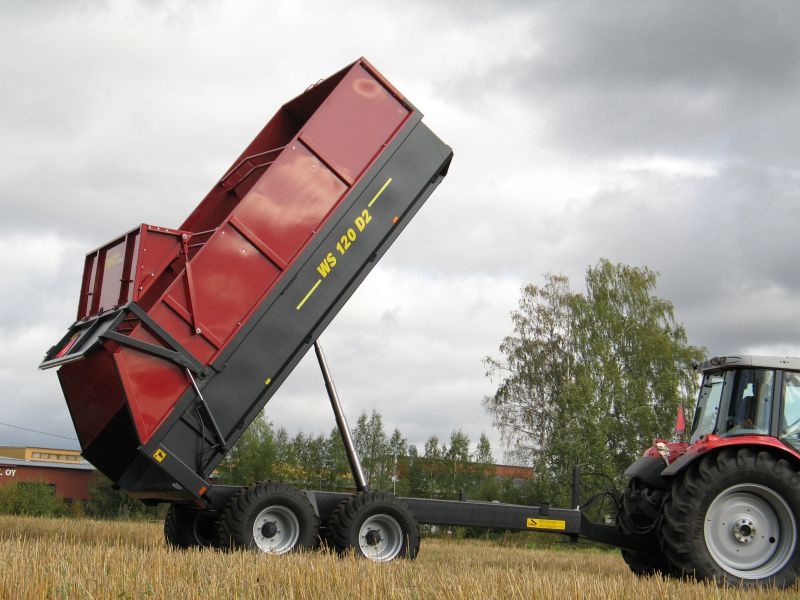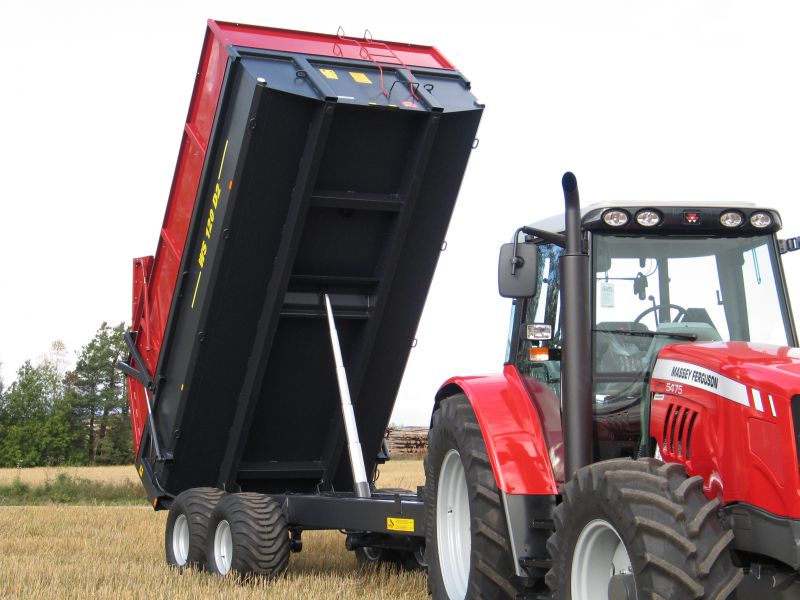 N130 D3

• Multi-axle chassis
• Rectangular frame with a frame bar made of tubular beam
• Trailer bed runners made of tubular beam
• Capacity 12,700 kg
• Trailer bed interior dimensions 449×240 cm
• Trailer bed exterior dimensions 472×250 cm
• Wall height 65 cm
• Volume with standard walls 7.0 m³
• Volume with additional walls 15.0 m³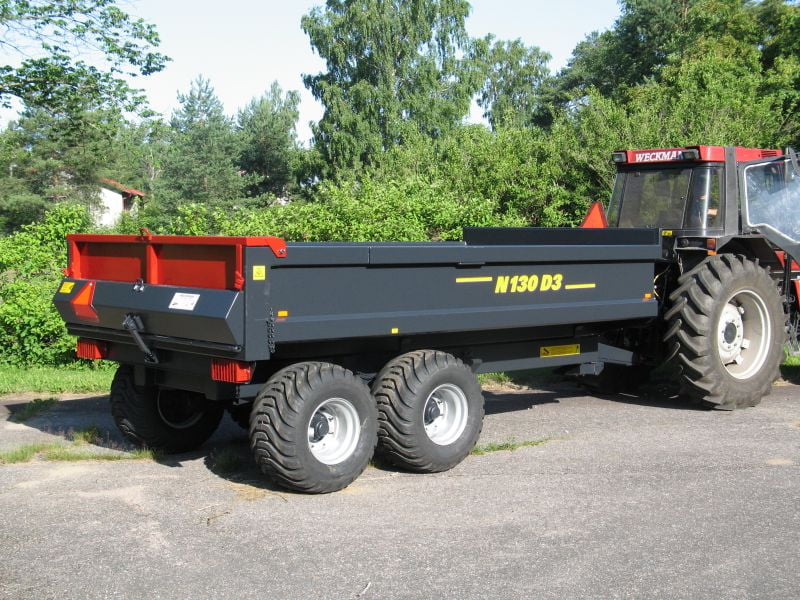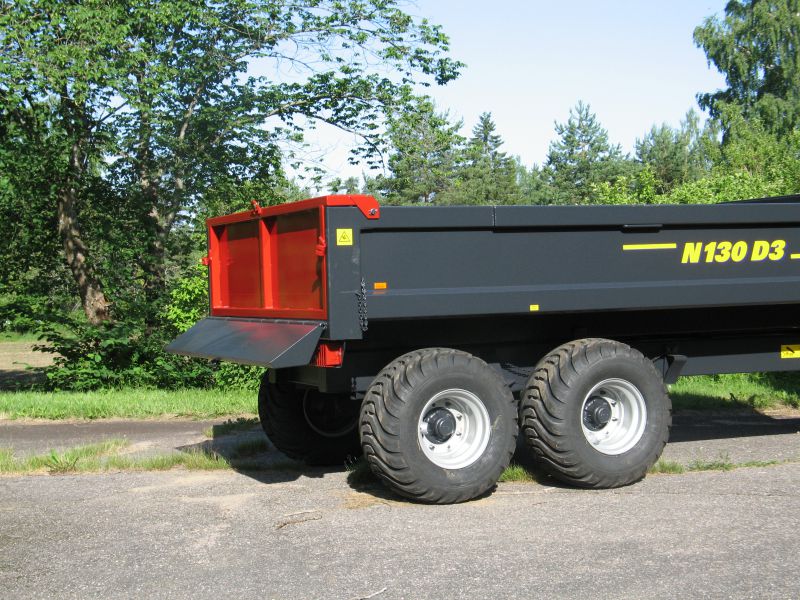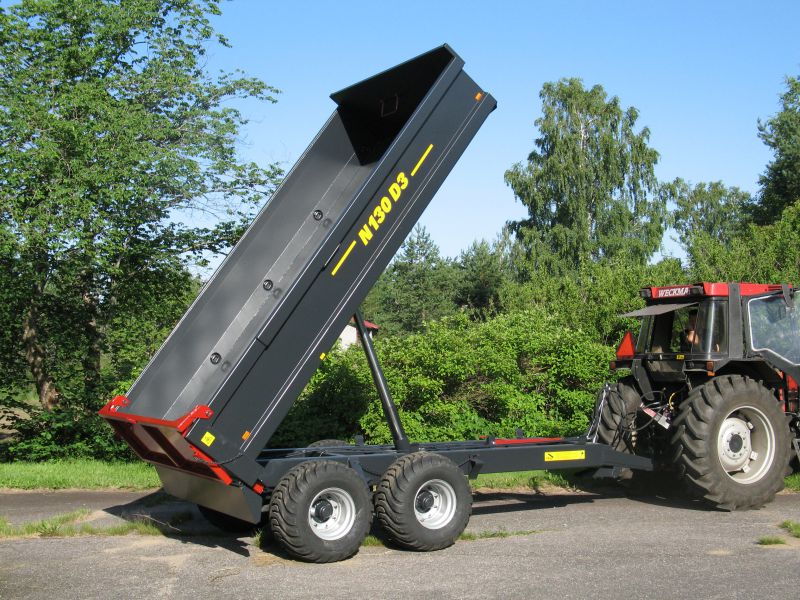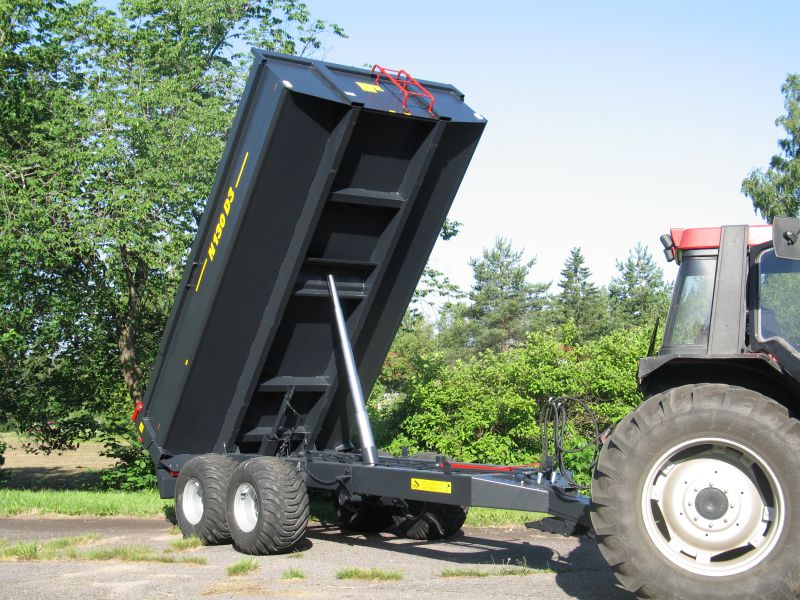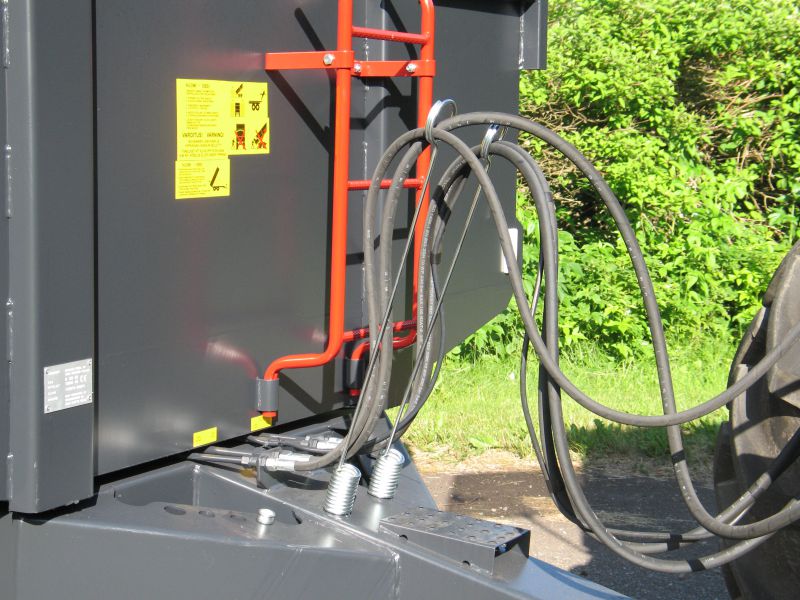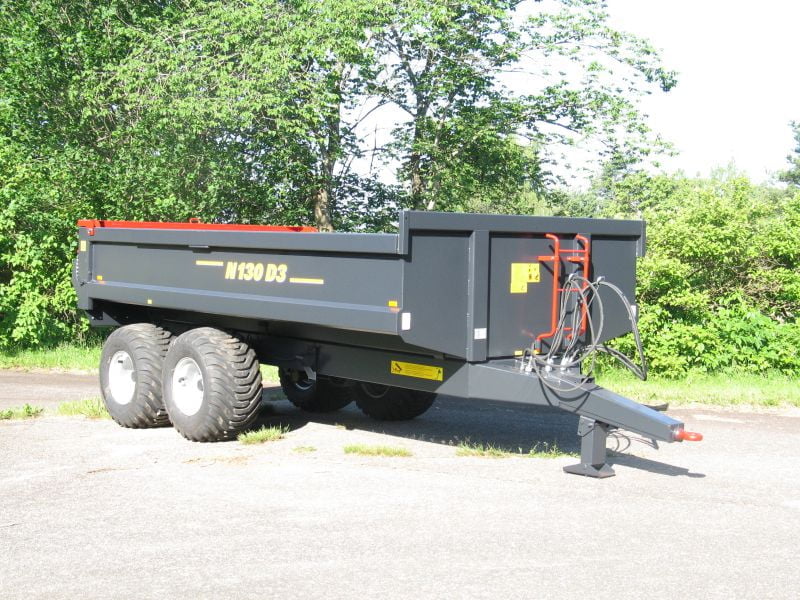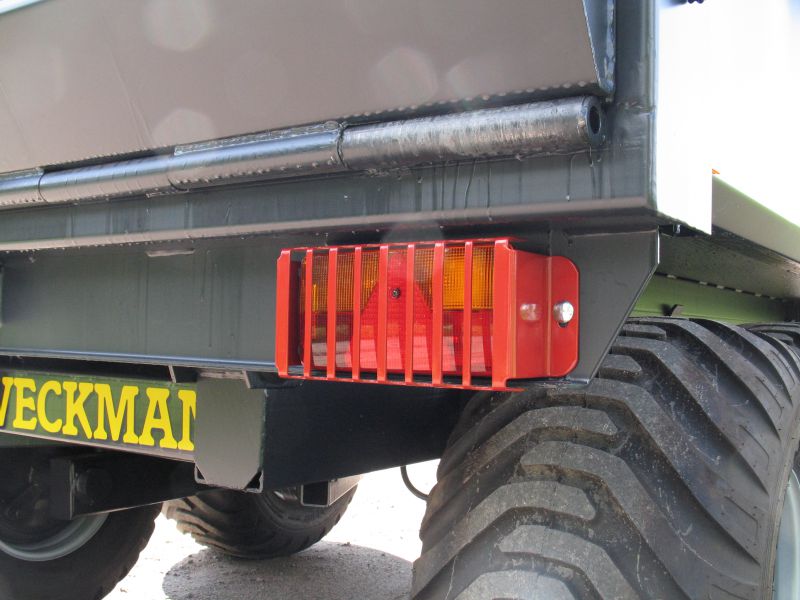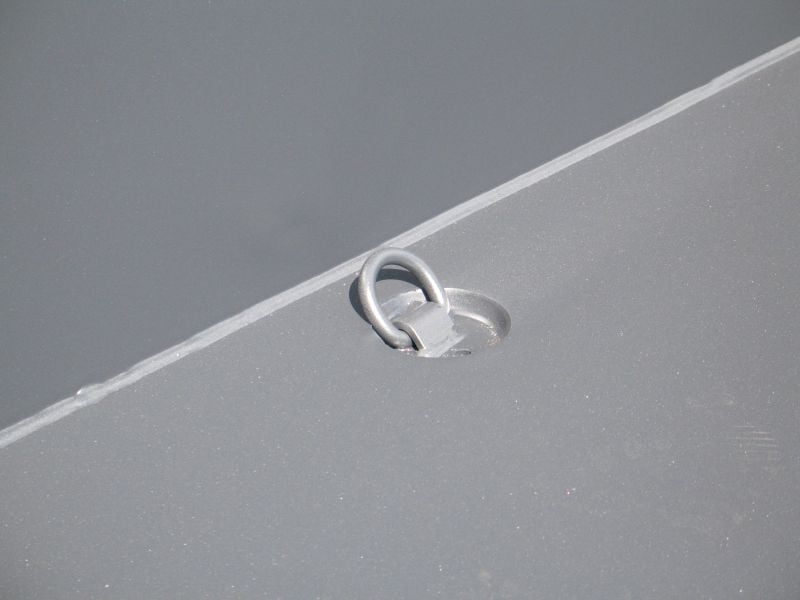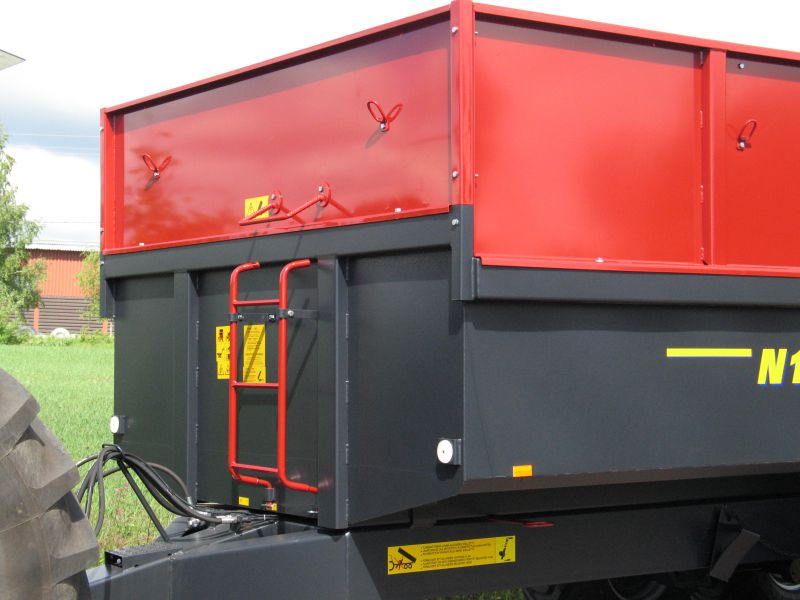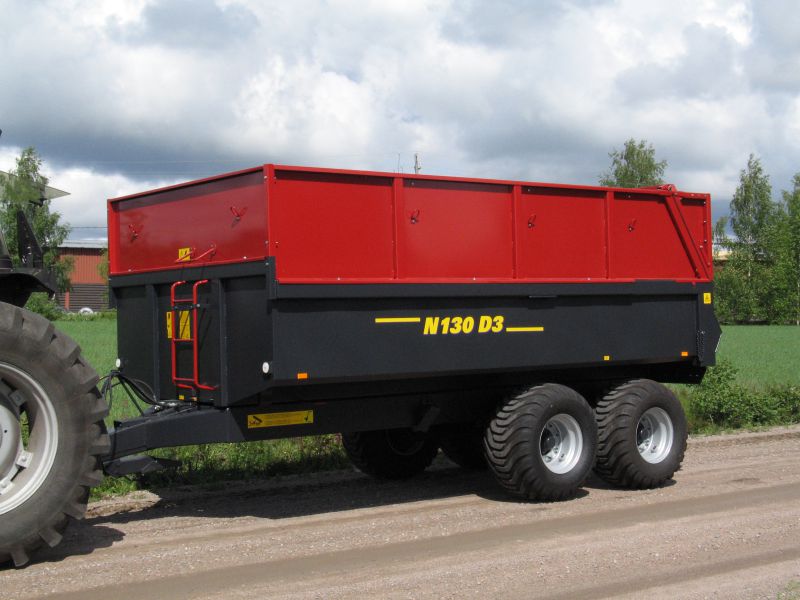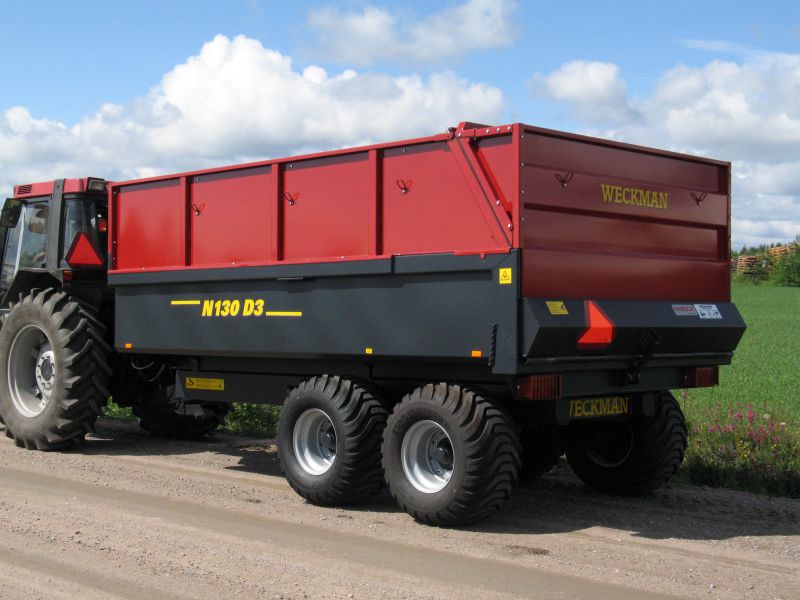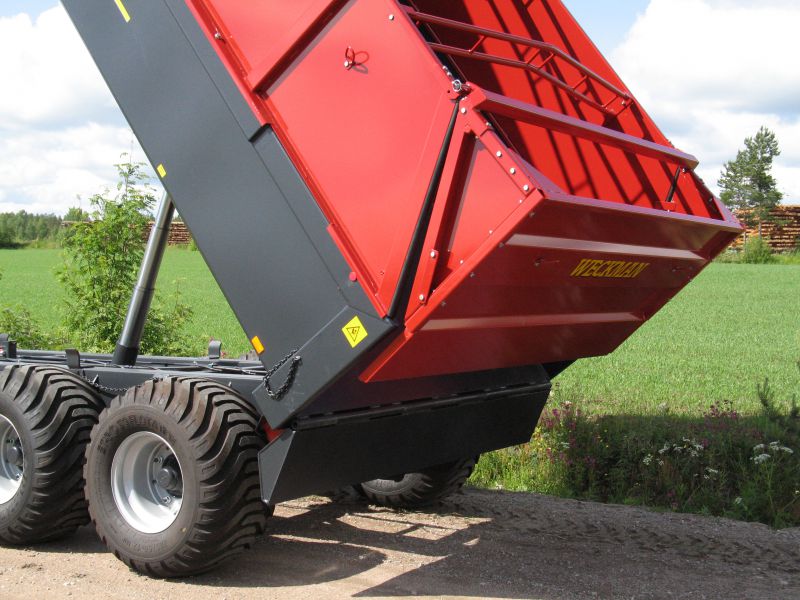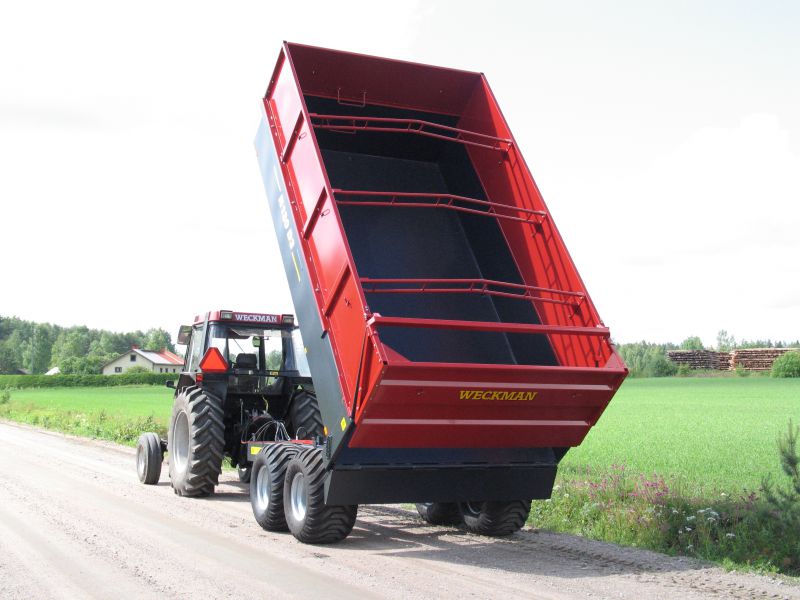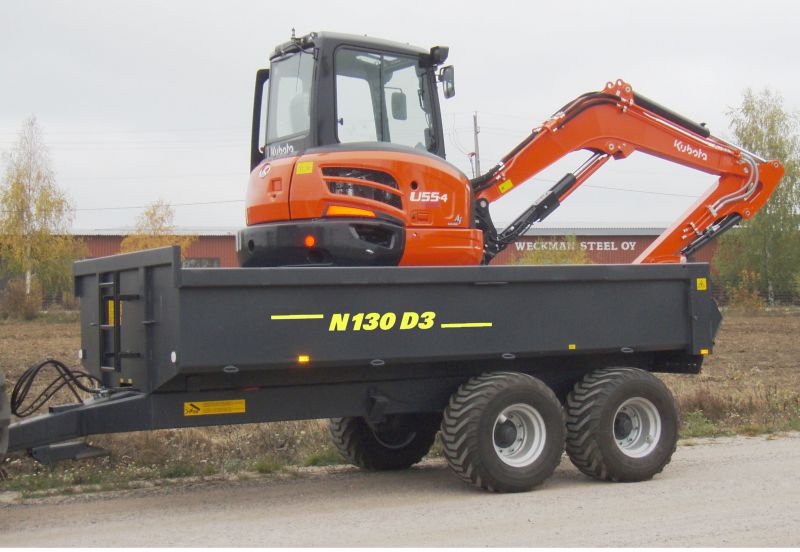 WS150 D3

• Multi-axle chassis
• Rectangular frame with a frame bar made of tubular beam
• Trailer bed runners made of tubular beam
• Capacity 15,000 kg
• Trailer bed interior dimensions 480×245 cm
• Trailer bed exterior dimensions 503×258 cm
• Wall height 70 cm
• Volume with standard walls 8.1 m³
• Volume with walls for grain 17.4 m³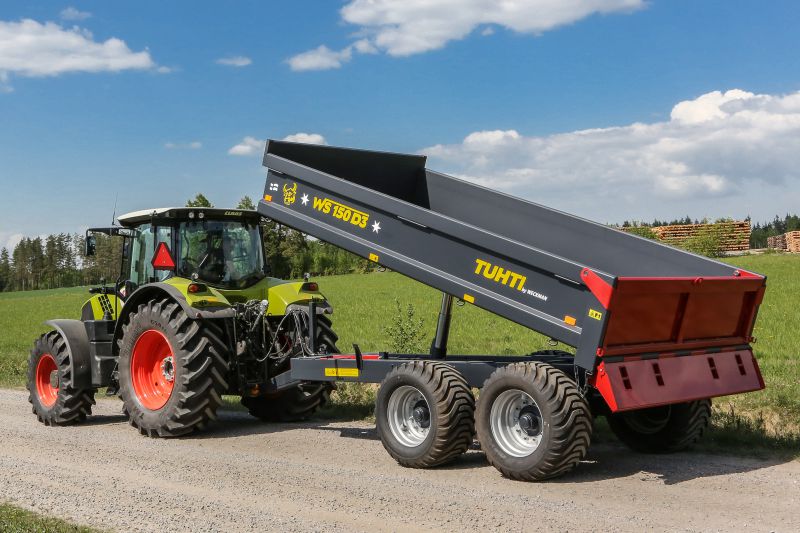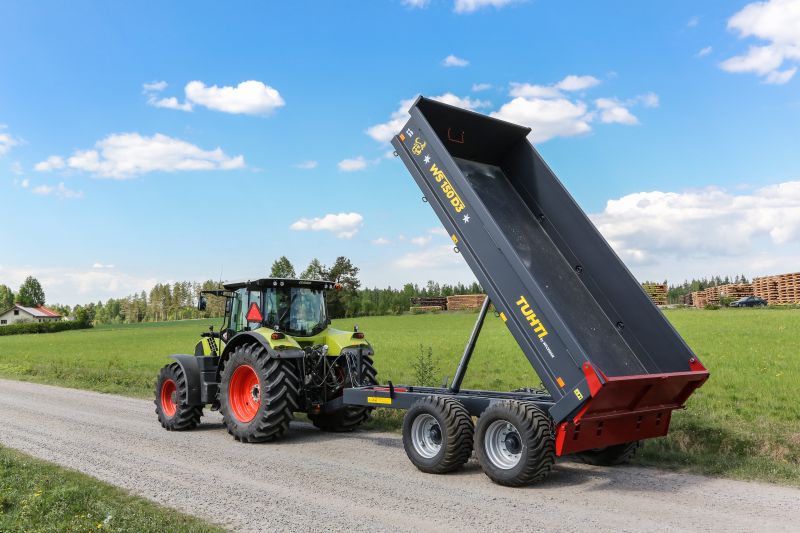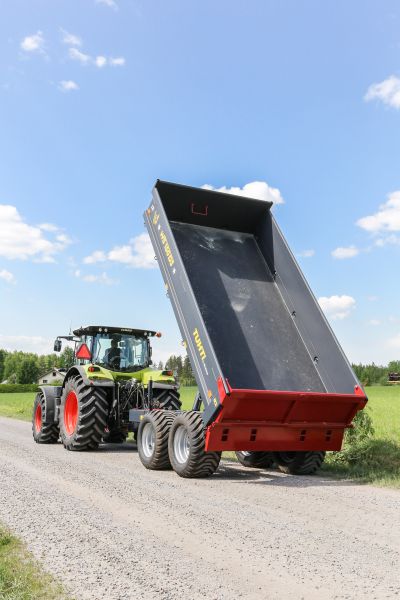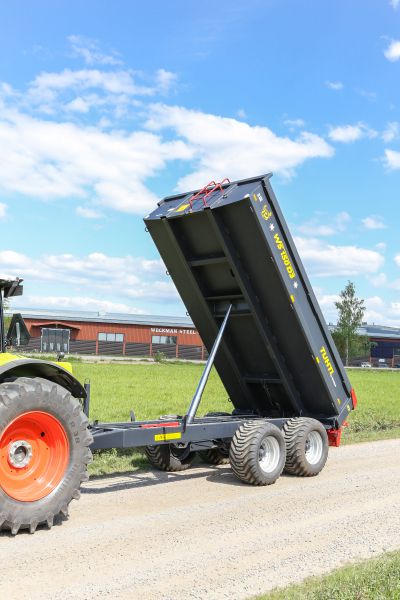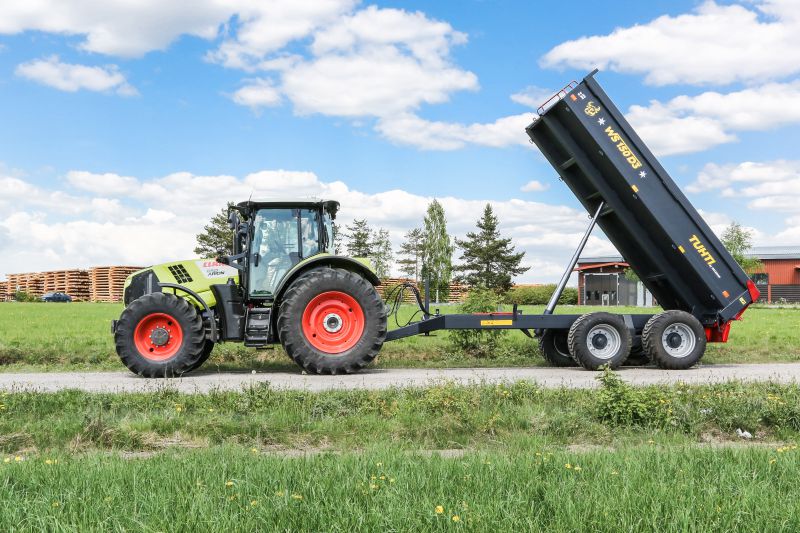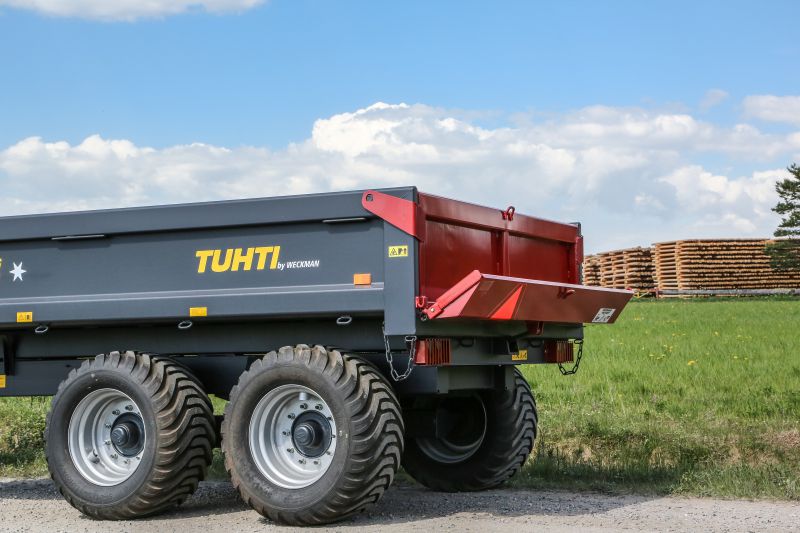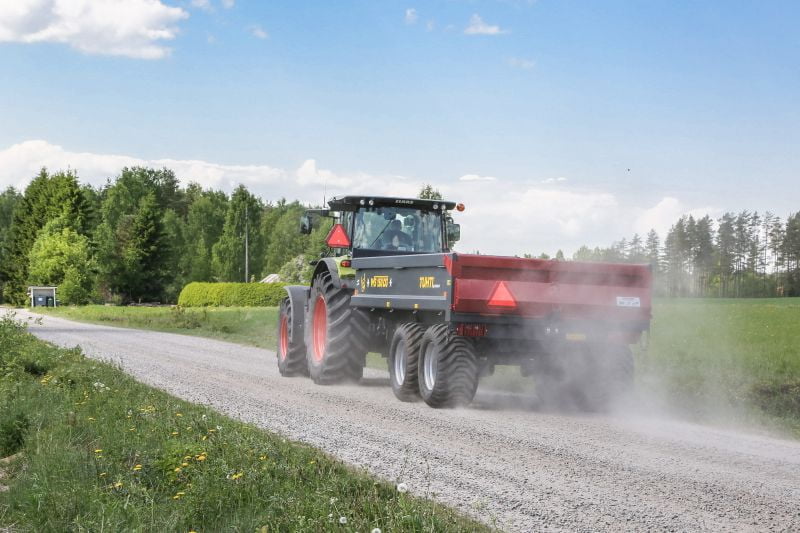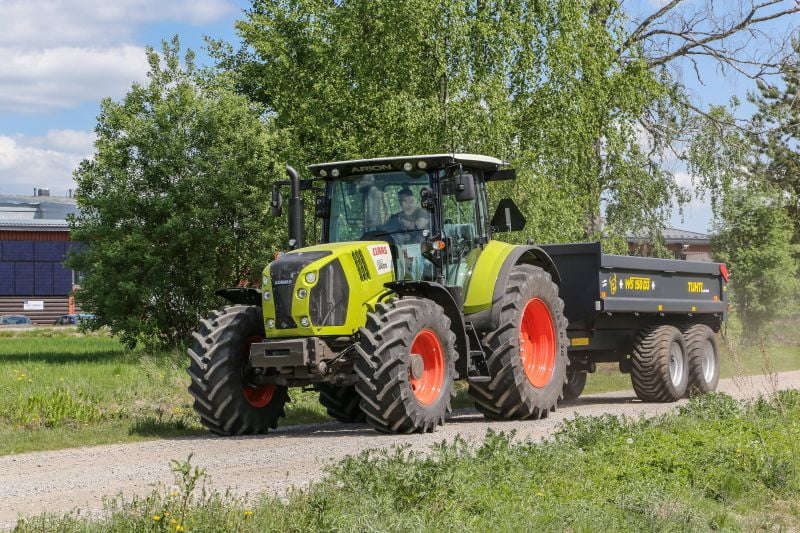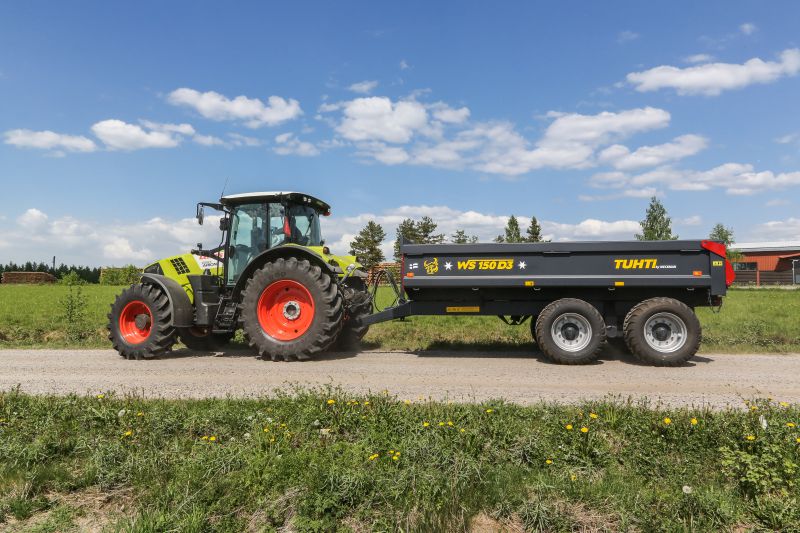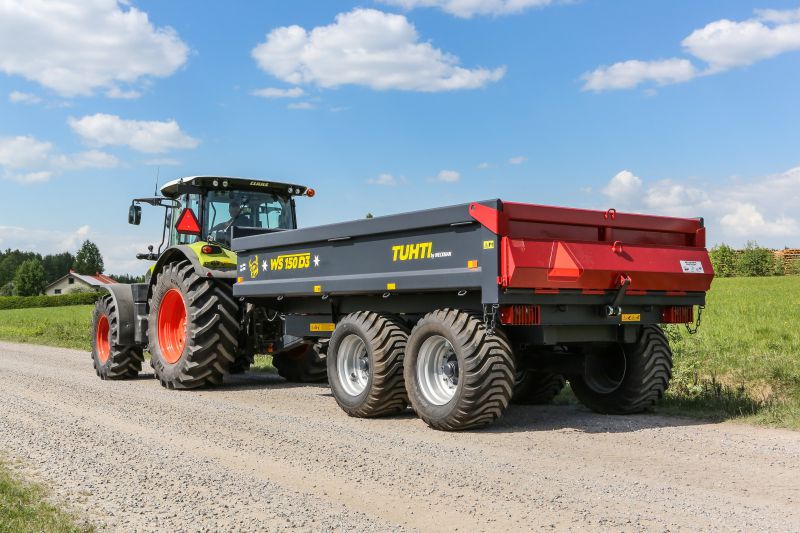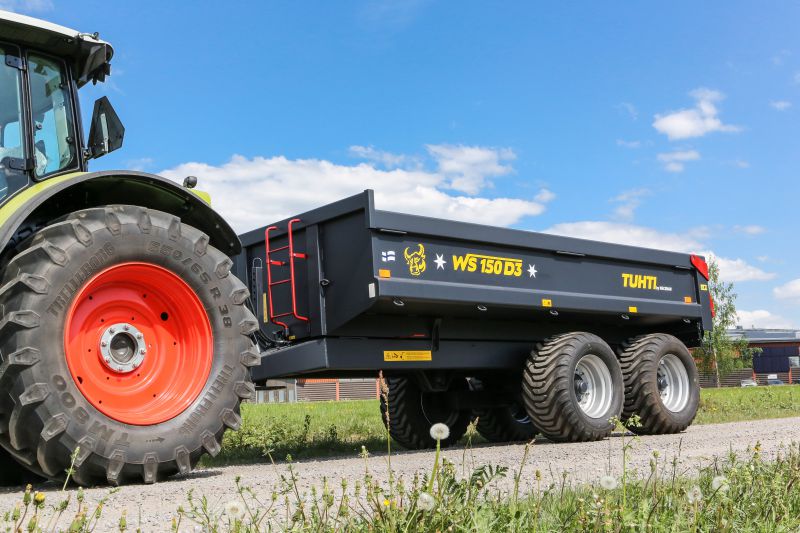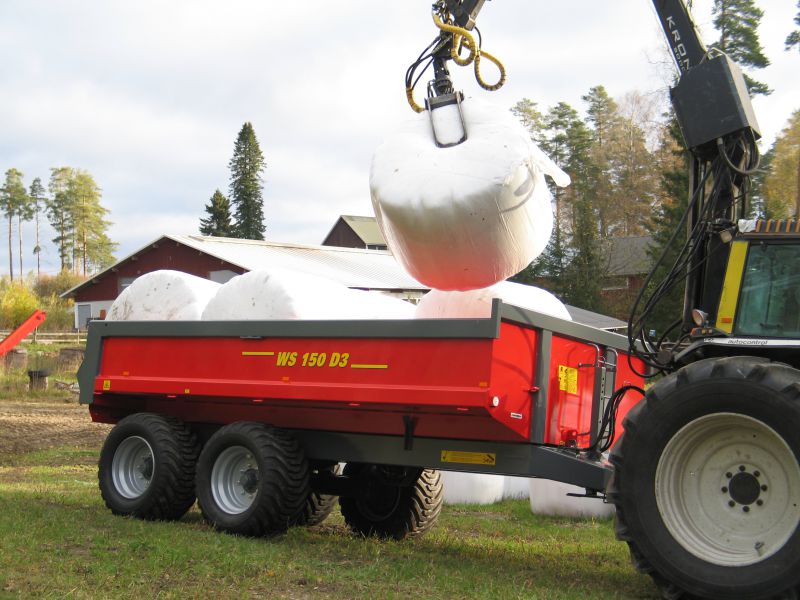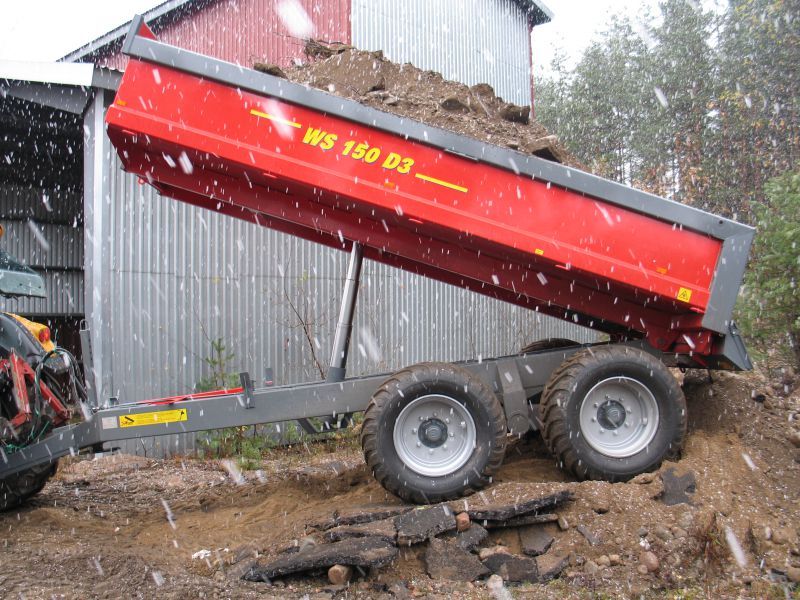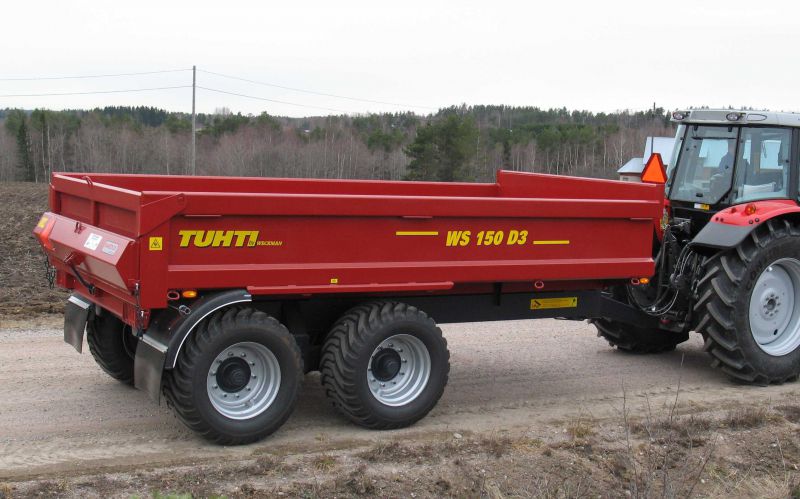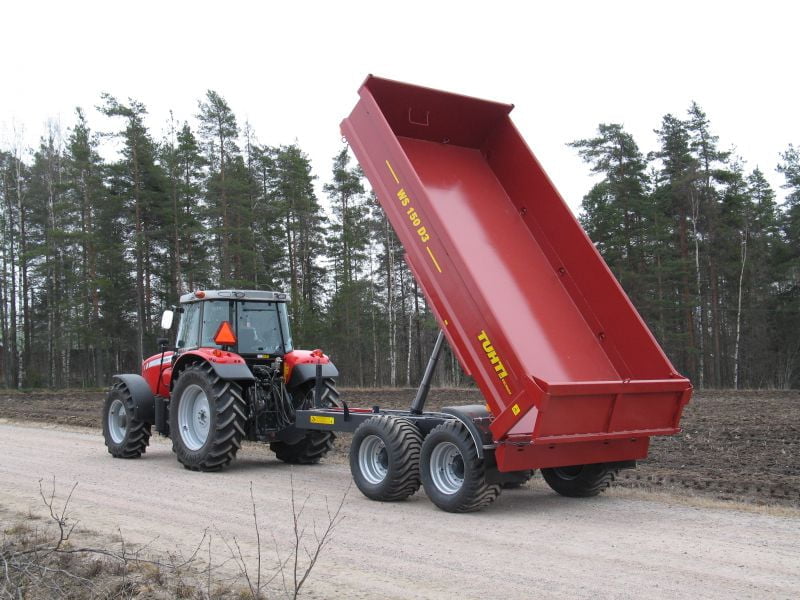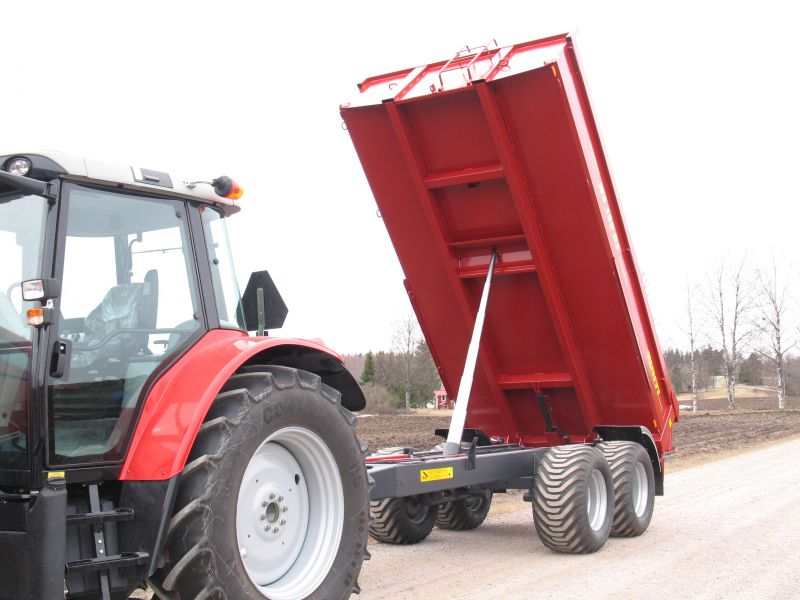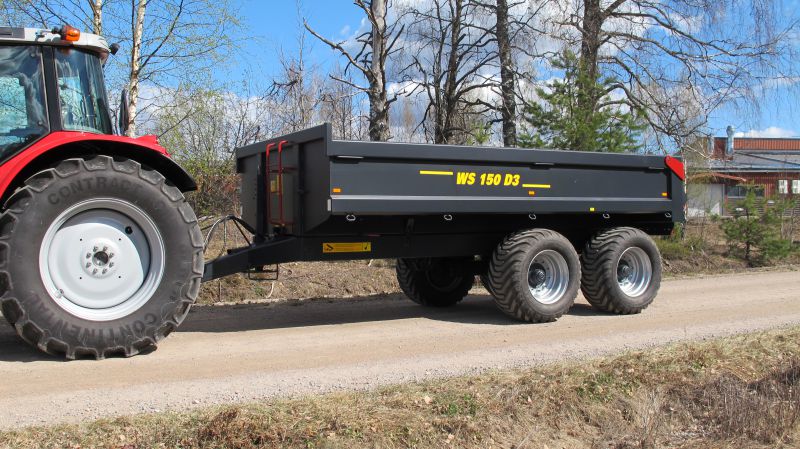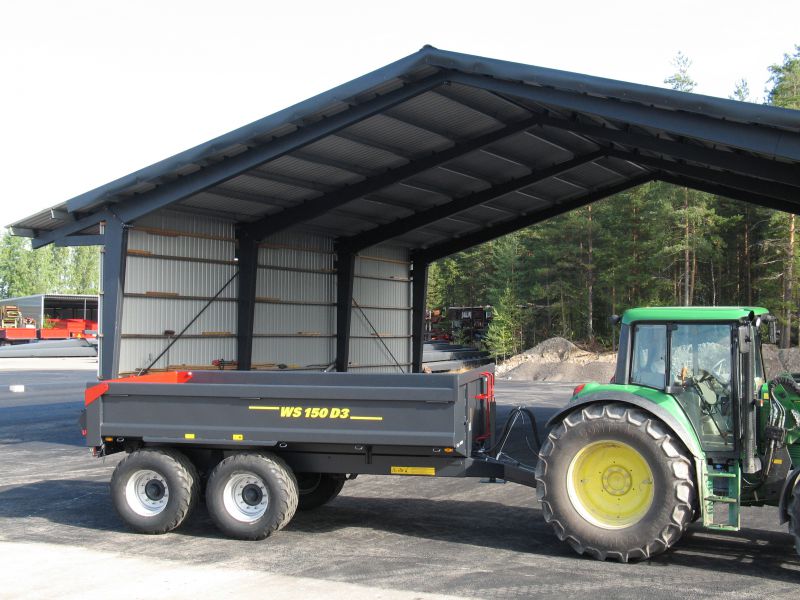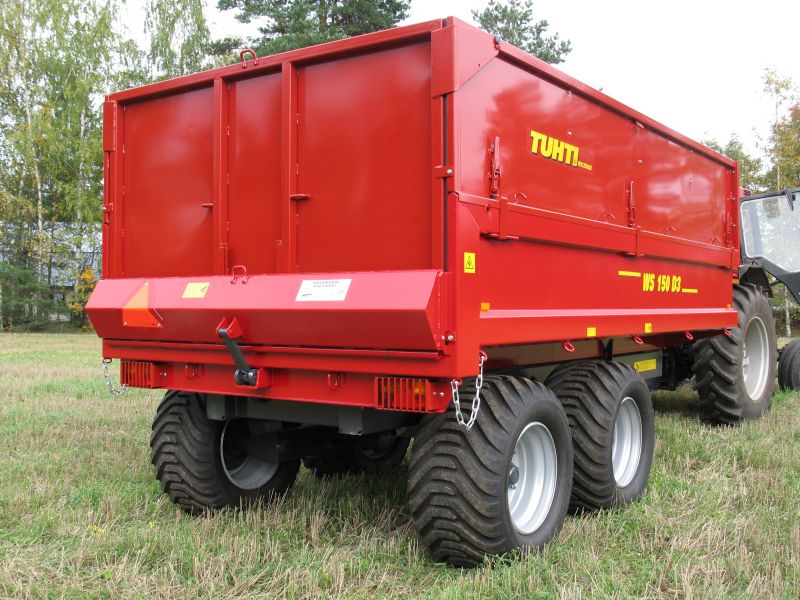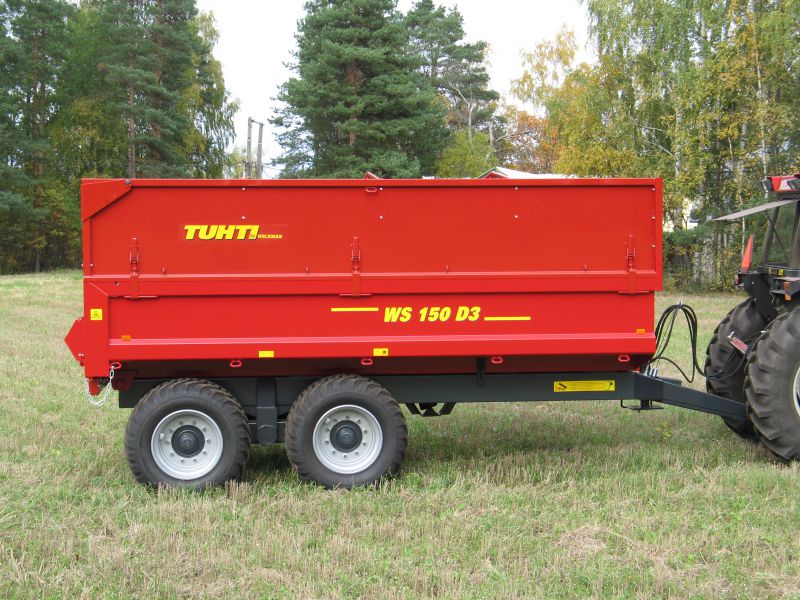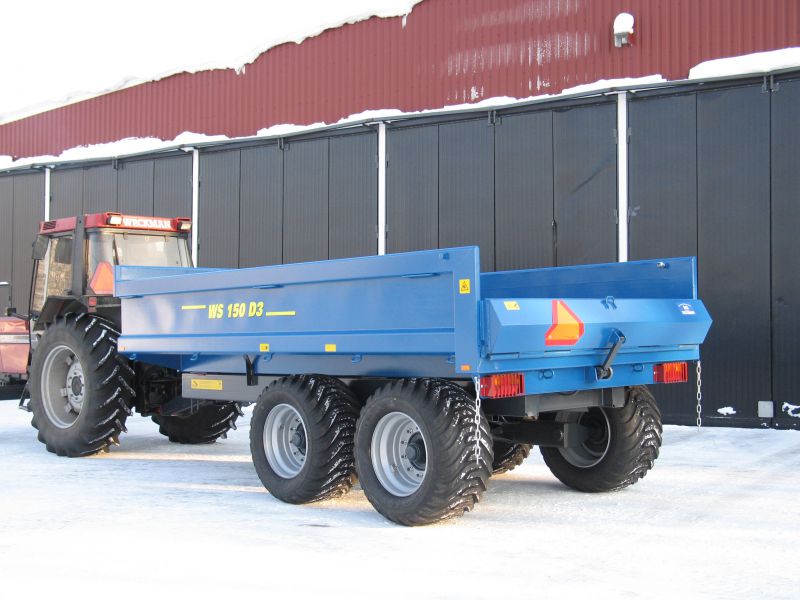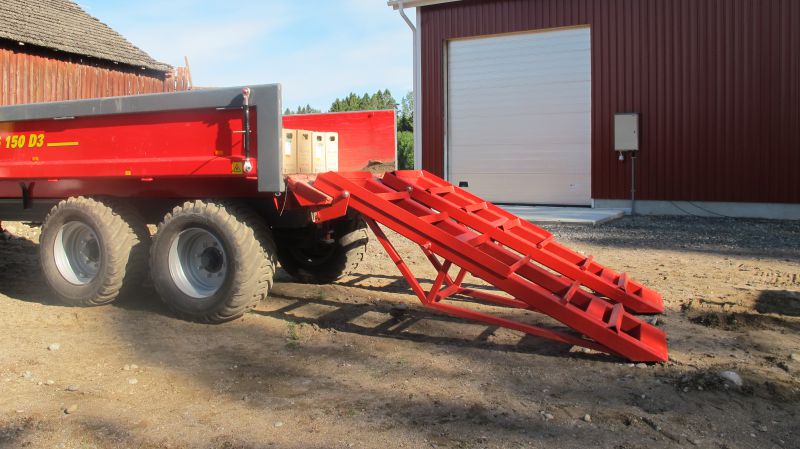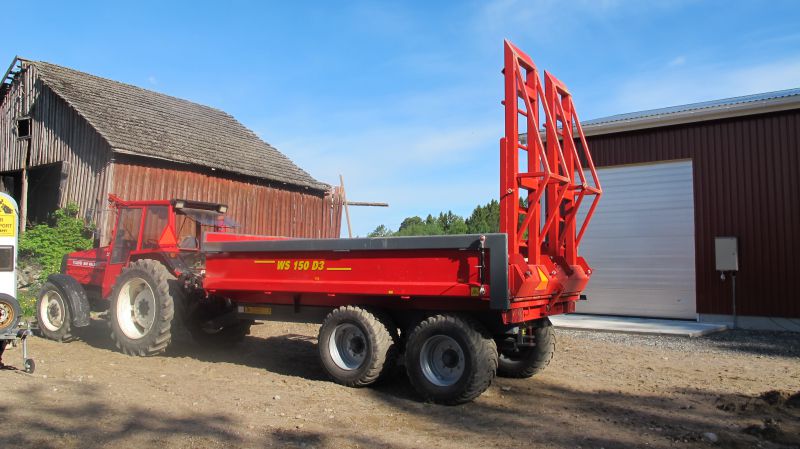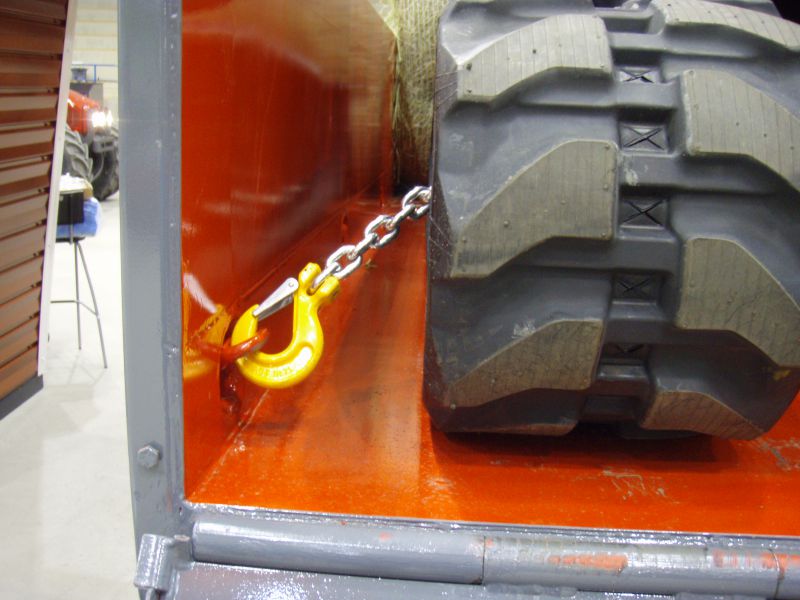 WS180 D3

• Multi-axle chassis
• Rectangular frame with a frame bar made of tubular beam
• Trailer bed runners made of tubular beam
• The backboard opens upwards with a hydraulic mechanism
• Drawbar with springs (mechanical leaf spring)
• Capacity 18,000 kg
• Trailer bed interior dimensions 525×230 cm
• Trailer bed exterior dimensions 539×245 cm
• Wall height 80 cm
• Volume with standard walls 9.5 m³
• Volume with walls for grain 18.6 m³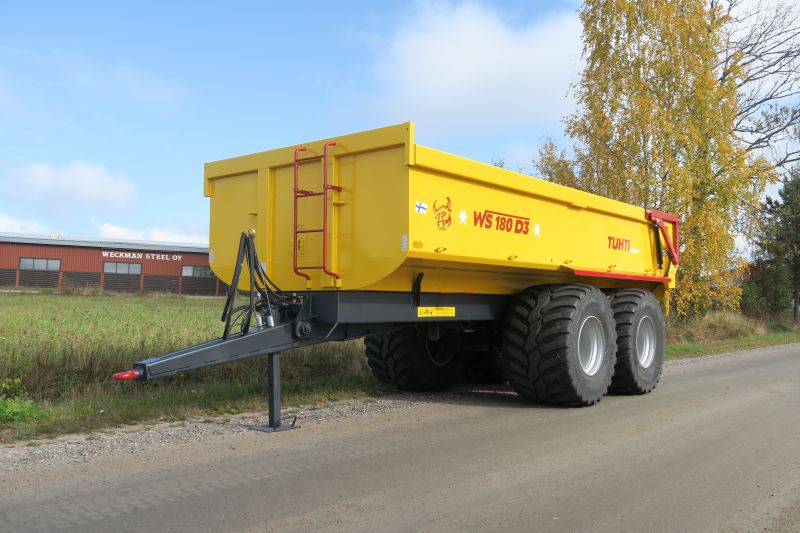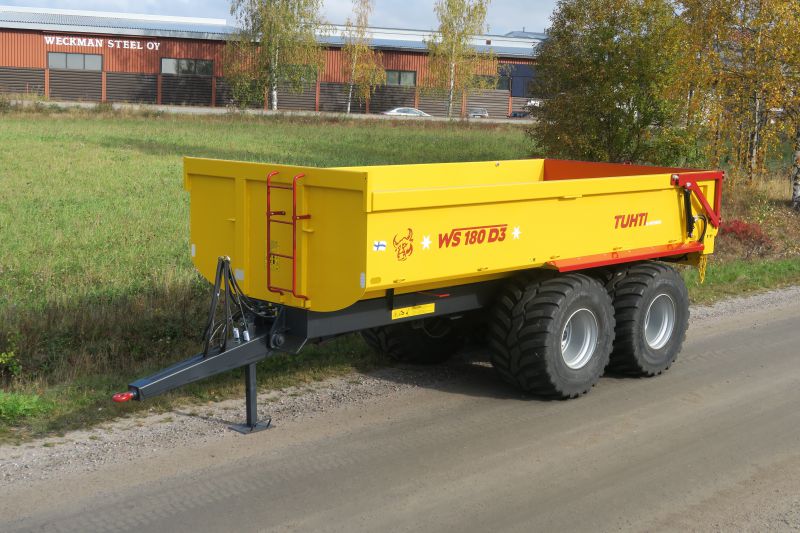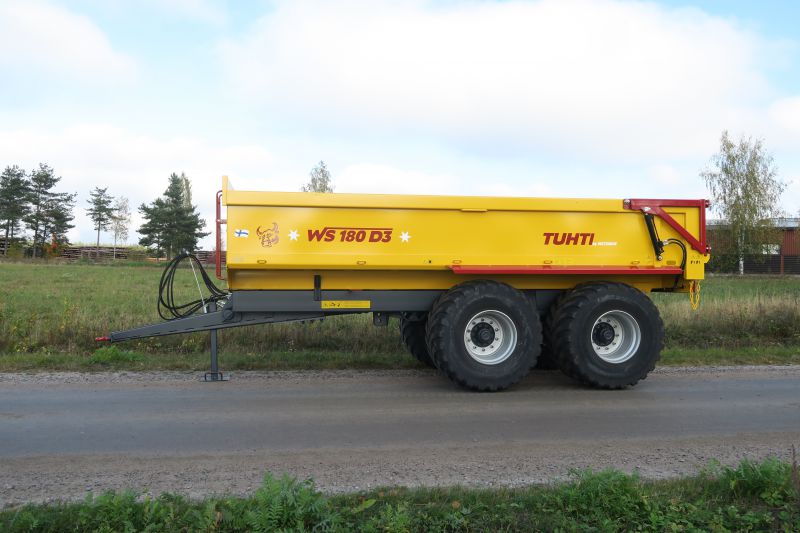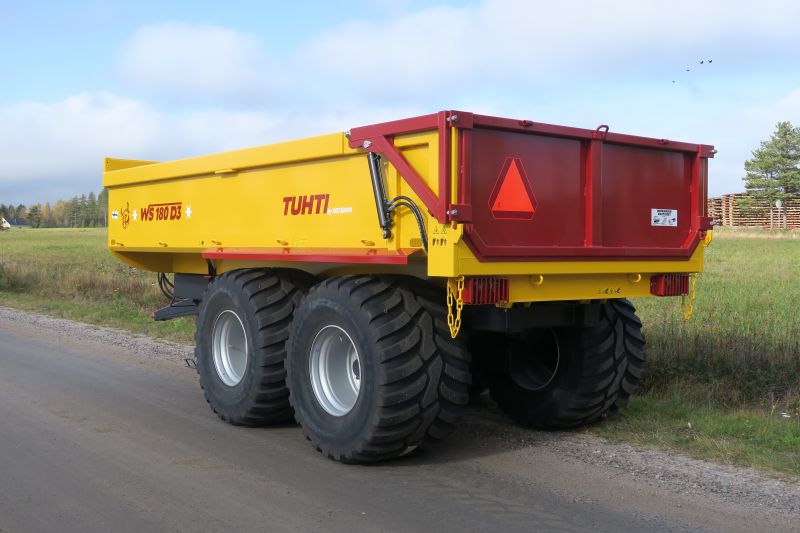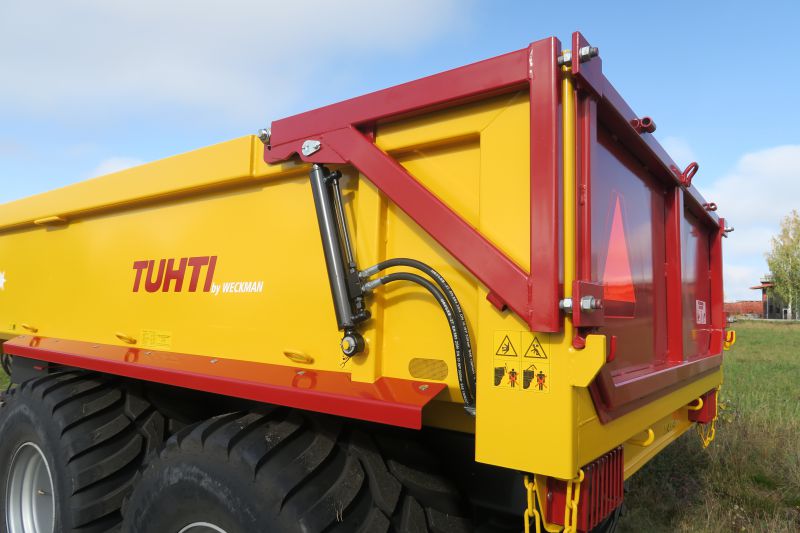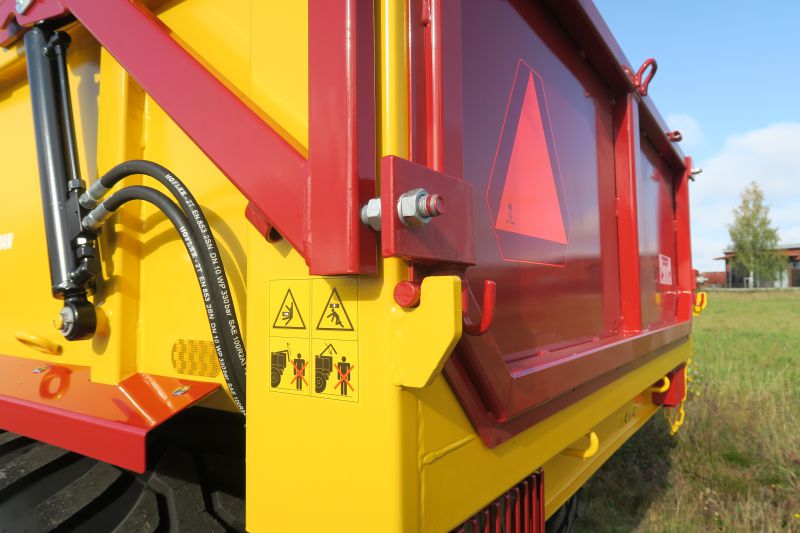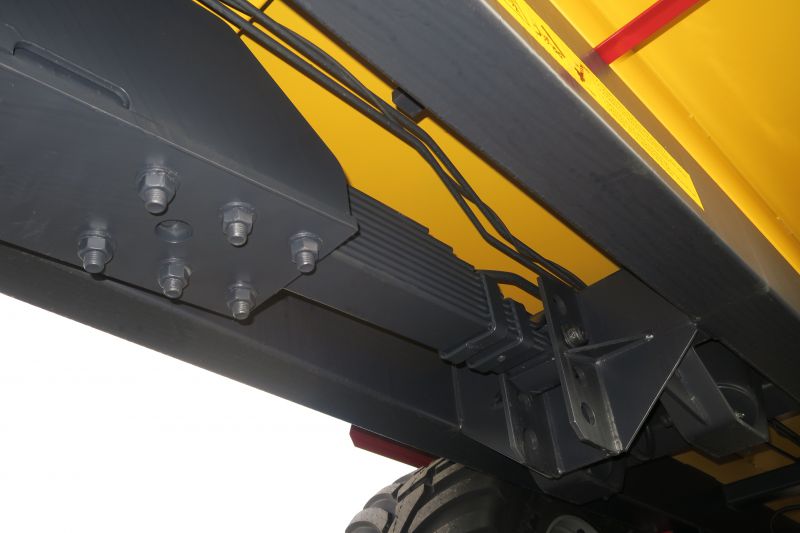 Accessories
grain cassette (h=750 mm)
tow jaw at the rear